Scots academic Prof Gavin Mooney killed in Tasmania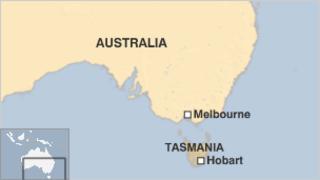 An internationally-renowned Scottish academic and his partner have been found dead at their home in Tasmania.
Glasgow-born Gavin Mooney and partner, Dr Del Weston, were discovered allegedly bludgeoned to death in Mountain River near Hobart on Thursday.
Media reports in Australia said Dr Weston's son has appeared in court charged with two counts of murder.
Australia's health minister said Prof Mooney was "one of the founding fathers of health economics".
Police said a hammer and a sledgehammer were found close to the bodies.
Nicolau Francisco Soares, 27, was remanded in custody and is due to reappear at Hobart Magistrates Court in the new year.
'Fearless advocate'
Prof Mooney was born in Glasgow and educated at North Berwick High School before graduating from the University of Edinburgh with an MA Hons in Economics in 1969.
He worked with Standard Life and for various government departments in London as an economic adviser.
Between 1986 and 1990 he was based at the University of Copenhagen in Denmark before returning to Scotland for his third spell at Aberdeen University where he was Professor of Health Economic between 1991 and 1993.
He emigrated to Australia in the 1990s, working at the University of Sydney and at Curtin University in Perth.
He is said to have moved to Tasmania with Dr Weston after retiring.
Australian Health Minister Tanya Plibersek said his death was a "tragic loss" for the health community, both in Australia and internationally.
She added: "Professor Mooney was a fearless advocate for social justice, and in particular the role of citizen juries, leading debates on the importance of consumers in determining how their health resources are allocated.
"Described as 'one of the founding fathers of health economics', his research was driven by real world challenges and geared towards identifying practical solutions. He was an inspiring teacher and supervisor, which when coupled with his extensive publication record, will ensure his legacy persists."