Martha Payne's story inspires Malawi gift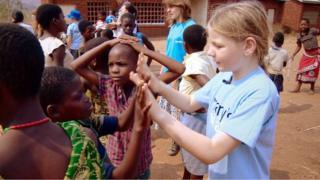 A 10-year-old girl who raised more than £100,000 for children in Malawi has inspired a Leicester woman to sponsor a school in the African country.
Martha Payne, from Lochgilphead in Argyll, was sent the donations when her blog about her school meals became hugely popular on the internet.
Shabnam Sabur watched a BBC Scotland documentary about Martha and was moved to do something herself.
She has decided to pay the running costs of meals at a school in Malawi.
In October, Martha attended the opening of a kitchen in Malawi which was funded by cash she raised for a children's charity.
Martha's blog became an international sensation and raised more than £114,000 for Scottish charity Mary's Meals, after the local council tried to ban her from taking photographs of her school meals.
In Malawi, about 500,000 children are given a porridge-like meal every school day to attract them to the classroom.
Ms Sabur saw a BBC documentary on Martha's visit to Malawi.
She has given an undisclosed sum to pay for meals at the school, near the Malawian commercial capital Blantyre, for a year.
She said: "There was one particular moment in the report where Martha was surrounded by hundreds of school children her own age. They were so happy, so delighted, with huge smiles on their faces. It was at that moment I felt I wanted to be a part of it.
"I wanted to achieve what Martha had achieved in changing the lives of children."
An updated documentary about Martha and her fundraising efforts for Malawi can be seen on BBC One Scotland on Sunday 23 December at 17:30.