At home with Julia Donaldson
For the third year running an adaptation of a Julia Donaldson picture book is a major part of the BBC One Christmas Day schedule.
When I meet Julia Donaldson, she is at home, gathering as many glasses as she can for the 40 carol singers she is expecting to descend on her household.
As the bestselling author of more than 157 books, not to mention the current children's laureate, a lot of her life is spent on the road.
But the home she shares with her hospital consultant husband, Malcolm, near Glasgow, is where she would much rather be.
Especially at Christmas when family gathers around.
This year, for the third year in a row, she will also overturn her own rule of not watching TV on Christmas Day, to tune into a new version of her picture book Room on the Broom.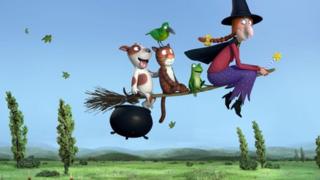 Produced by Magic Light Pictures, who made the Gruffalo and the Gruffalo's Child, it features the voices of Gillian Anderson, David Walliams, Sally Hawkins, Simon Pegg, Timothy Spall, Rob Brydon and Martin Clunes.
Like the previous films, it also sticks to the story.
There's no additional dialogue and the only extension of the characters is done through expressions (the cat, in particular, is a masterclass in shrugs and scowls).
Back story
"I absolutely loved it," says Julia Donaldson.
"I loved the Gruffalo and the Gruffalo's Child but I like this even better. It's so exhilarating. When they get on that broom and go whoosh…'they were gone'. You really fell you are up in the sky, almost going at rocket speed.
"I'm so pleased they've just stuck to my words - it was in the contract - but they've given all the animals a back story.
"The bird, who is as green as can be, has been chucked out of his nest by the other birds, who are not green.
"There is a bit of pathos there. And there is a bit of emotion as the cat is quite jealous of the other animals, at least to begin with."
There's a whole cupboard of props, just off from the Donaldson kitchen, and Julia is happy to grab a bundle of things she uses in the regular storytelling shows she stages.
She is a big advocate, not just for reading, but for reading aloud, which she believes is hugely beneficial.
"I have a book of short plays coming out in the new year. I really think that reading a part in a play encourages children to read with much more expression and that's something I've been keen to push as Children's Laureate."
The witch's hat has gone astray. She goes off to retrieve it.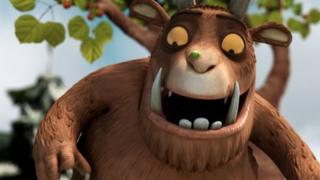 I read somewhere that she asked Axel Scheffler, her regular illustrator, to make the witch in Room on The Broom younger, and abandon the wart he planned for her nose. Was the witch modelled on her?
"The witch is based on me. I didn't consciously think I'll put her into the book but she is very like me.
"I'm rather scatty and lose things. Yesterday I left my nightdress in a hotel, the day before, I left my wallet at home when I went to the shops. So I'm quite like her."
Becoming a Christmas Day tradition has taken her by surprise. Not least because she grew up with a rule about no television on Christmas Day, and continued that with her own family.
But on Christmas Day, she and her husband, sister, sons, grandchildren and extended family will settle down to watch together.
"It's very exciting to have that Christmas Day slot and this year, Axel has designed Christmas stamps too. So some people have accused us of taking over Christmas but it wasn't intentional. And there are plenty of other good things on at Christmas."
She adds: "It's very nice to bring my books to a wider audience but I do hope a lot of people who see the film will then go out and buy the book, or borrow it from their local library."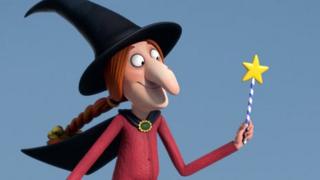 Libraries are important to Donaldson.
This summer she embarked on a six-week tour from Lands End to John O'Groats, visiting as many libraries as she could on the way. Her point - to raise awareness and campaign against the very real prospect of cuts and closures.
"I've been doing all I can to campaign to save libraries and librarian's jobs and I hope that tour helped build people's enthusiasm for libraries.
"I do feel - and not just because of me - there's a greater fervour about saving libraries. And I do feel a lot more positive but you can't get too complacent, can you?"
Christmas is a rare moment of calm in a hectic schedule (although she realises she's only swapping her literary duties for two weeks of domestic duties).
Quite special
The new year brings more publications - including those new plays for children.
She'll work with deaf children to help them write their own stories. And there is the world premiere at the Tron Theatre in Glasgow of the stage version of her novel for teenagers - Running On The Cracks.
She talks animatedly about sitting in on early discussions with director Andy Arnold.
"There's this amazing stage set and he's describing putting in panels and hiding places - and I'm thinking 'I've never had any of that before in my shows, this is amazing'. It's a really exciting project to be involved in. Quite special."
And if the Christmas film tradition continues, she's got plenty more to offer.
"I suppose the book I think would make the best Christmas special would be Stick Man because it has Father Christmas in it.
"But I'm really keen on a book which came out recently which is called The Paper Dolls and that's a lot more poignant than some of the others. It would make great television."
Room on the Broom is on BBC One at 16:35 on Christmas Day.