Flood warnings after heavy rain in parts Scotland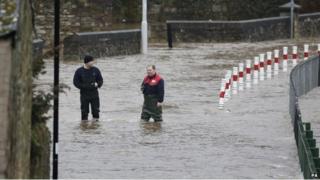 A number of flood warnings remain in place across parts of Scotland, with Tayside the worst affected area.
There are currently 16 flood warnings in Tayside and one in Aberdeenshire.
With more rain forecast over the weekend, the public have been urged to remain vigilant.
The Met Office has issued amber warnings for heavy rain and strong winds across Grampian, Central, Tayside and Fife on Saturday into Sunday.
Yellow warnings have been issued across the rest of Scotland.
Serco NorthLink Ferries has cancelled sailings between the Northern Isles and Aberdeen due to adverse weather conditions.
The operator is hopeful of a sailing from Lerwick to Aberdeen on Sunday evening and from Aberdeen to Lerwick early on Monday (24 December) morning.
These services will not stop at Kirkwall. The Pentland Firth crossing has also been cancelled on Saturday afternoon and Sunday morning.
Stuart Garrett, managing director of Serco NorthLink Ferries, said: "High winds and waves mean it is not currently safe to sail but we are watching forecasts very closely and believe it may be possible to sail late tomorrow (Sunday). If we can operate services that would allow people to travel for Christmas we will.
"We understand these disruptions are extremely disappointing. Storms of this severity and length are very unusual and it has not been safe to sail since Thursday."
Loganair has put on an extra flight between Aberdeen and Shetland on Saturday and retailer Tesco chartered a Hercules transporter plane to fly supplies to the islands to restock empty shelves.
The enhanced content on this page requires Javascript and Flash Player 9
Map Key
Land
Cloud
Lakes, Rivers & Sea
Fog
Light
Heavy
Frost
Light
Heavy
Pressure Fronts
Cold
Warm
Occluded
Rain
Light
Heavy
Extreme
Snow
Light
Heavy
Temperature tab only
Temperature (°C)
More details from BBC Weather
To access more information, from your mobile, visit the BBC Weather and BBC Travel News sites.