Director Venu Dhupa to quit Creative Scotland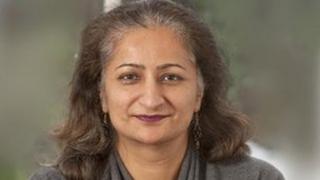 The architect of controversial funding changes which sparked a row between Creative Scotland and artists has resigned.
Venu Dhupa, the arts body's director of creative development, said she would stand down in February.
Her resignation follows the announcement that chief executive Andrew Dixon is leaving in January.
In October, 100 leading artists launched an attack on the management and running of the organisation.
Crime author Ian Rankin and national poet Liz Lochhead were among those putting their names to an open letter condemning Creative Scotland's decision-making and saying it was in an "ongoing crisis".
Earlier in the year, dozens of groups were told by letter that their regular funding would end next spring and that they would have to apply for money for one-off projects.
The move sparked an angry reaction from the arts community.
Creative Scotland's board has since revised the plans and promised to make a number of other changes to the way the body is run.