Jam request prompts warning over time-wasting ambulance calls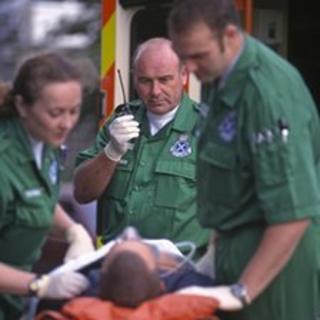 Someone who wanted an ambulance crew to open a jar of jam for them is among a unusual emergency calls revealed by the Scottish Ambulance Service.
The request was revealed during an appeal to the public to put a stop to inappropriate, time-wasting calls.
Demand in parts of the country exceeded the anticipated 20% surge on Sunday, with a 32% rise in Edinburgh and a 22% increase in Glasgow and Lanarkshire.
Staff are bracing themselves for another busy weekend before Christmas.
Some of the most extreme cases of recent inappropriate 999 calls to ambulance control centres in Scotland included a woman who was worried her tooth might fall out.
Someone also called at 05:00 to say a car that overturned a few years previously had not been recovered.
A caller phoned to ask for an ambulance crew to put their bin out and in one case a man called to say that he was bleeding badly from a neck wound, only for the crew to find that he had cut a spot while shaving and needed nothing more than a small plaster.
Pauline Howie, chief executive of the Scottish Ambulance Service, said: "This weekend will be the busiest of the year so far and our staff will be working tirelessly to respond to patients.
"The 999 service is for serious emergencies and we are asking the public to use it wisely so that we can continue to send ambulances quickly to those that need us most.
"At peak periods, like the festive season, every inappropriate call has the potential to delay a response to a serious emergency."