Scottish flood alerts as rain hits travel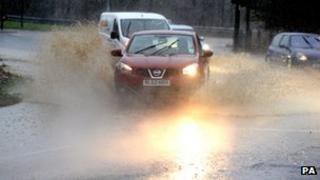 Fire crews had to pump water from the main A9 route to and from the Highlands after heavy rain running off the hills closed the road for several hours.
The Scottish Environment Protection Agency (Sepa) said it was also monitoring the situation in coastal areas and on rivers across the country.
Flood warnings and tricky road conditions were caused by up to 55mm of rain falling in some places.
Severe weather also led to ferry cancellations to the Northern Isles.
Between 06:00 and 18:00 on Thursday Tyndrum, north of Loch Lomond, experienced 54.8mm (2.15in) of rain, Carterhouse, in the Borders, had 34.6mm (1.36in).
Glasgow saw 21.8mm (0.86in) of rain, Strathallan, near Perth, 21.6mm (0.85in), while 20mm (0.79in) fell at Threave in Dumfries and Galloway.
Sandbags were handed out in Stonehaven and Peterhead in Aberdeenshire as a precaution. Sandbags and flood gates have also been put in place at the River South Esk in Brechin.
Ferry sailings to and from Orkney and Shetland have been cancelled on Thursday evening due to the high winds, while Friday's sailings are under review.
The A9 was closed in both directions for part of Thursday afternoon between Ballinluig and Dunkeld after water flooded down from the hills, but has reopened.
Tayside Fire and Rescue Service said a van driver had to be rescued after his vehicle got stuck in water covering a stretch of about 100m of carriageway.
Last weekend a combination of heavy seas, tidal forces and winds caused flooding and damage on the North Sea coast from Shetland to East Lothian.
Sepa said there was now a risk of further coastal flooding in the north and east, including areas affected last Friday and Saturday.
The environment body issued flood warnings, where flooding can be expected, covering Aberdeenshire, parts of Dundee and Angus, Kirkcaldy, the Borders and several areas of Tayside.
There are also "be prepared" alerts of possible flooding over much of the rest of Scotland.
Sepa's Vincent Fitzsimons said: "There is a risk of river flooding on Thursday and Friday for Tayside, Dundee, Angus, Aberdeenshire, Lothians, Fife, Scottish Borders and Argyll and Bute. Impacts in these areas could include flooding to land and roads.
"There is also a coastal flood risk for the latter part of Thursday and throughout Friday for the northern, Moray and eastern coastlines, including Stonehaven and Orkney. Disruption is possible in areas where defences were damaged over last weekend."
Stonehaven and Peterhead were hit by coastal flooding at the weekend and people in the north east were warned to steer clear of beaches and harbour areas where large waves could hit.
Ferry operators Serco NorthLink said there was a strong possibility of disruption and cancellations to Northern Isles services from Aberdeen in the run-up to Christmas because of the weather.
Environment Minister Paul Wheelhouse said: "As the exceptional weather over last weekend showed us, it is important that the public stay vigilant and take appropriate precautions."
The enhanced content on this page requires Javascript and Flash Player 9
Map Key
Land
Cloud
Lakes, Rivers & Sea
Fog
Light
Heavy
Frost
Light
Heavy
Pressure Fronts
Cold
Warm
Occluded
Rain
Light
Heavy
Extreme
Snow
Light
Heavy
Temperature tab only
Temperature (°C)
More details from BBC Weather
To access more information, from your mobile, visit the BBC Weather and BBC Travel News sites.