Some Scottish island ferry fares to rise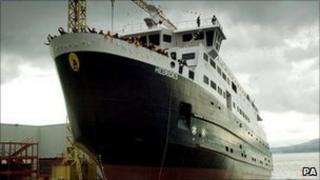 Fares will rise for ferry passengers going between the Scottish mainland and three islands, it has been confirmed.
A government blueprint for ferry services over the next decade revealed that fares would rise by about 8.2% for people going to the Western Isles, Coll and Tiree.
The maximum rise on any individual route will be limited to 10.6%, Transport Scotland said.
It also said a new service will run from Campbeltown to Ayrshire via Arran.
The government agency announced it would pilot a weekend air service between the Mull of Kintyre and Glasgow over the next two summers, and will discuss with Argyll and Bute Council the case for trunking the A83 from Campbeltown to Kennacraig.
This would join the Kintyre peninsula with Scotland's road trunk network.
The plan also identifies 15 new vessels which will come into service between now and 2025, worth £295m.
Confirmation of the fare rise comes after a review of a subsidy scheme called the Road Equivalent Tariff (RET), which links ferry fares to the cost of travelling an equivalent distance on land.
It was introduced on Coll, Tiree and the Western Isles last year, following a pilot scheme, and was extended to Gigha, Islay and Colonsay in October this year.
But it was also scrapped altogether for large commercial vehicles travelling to Coll, Tiree and the Western Isles.
The scheme was designed to bring down the cost of ferry travel but Transport Minister Keith Brown said the fare increases in 2013 reflected the rising costs of driving a car.
'Damaging decision'
"In order for RET to be sustainable, it has to be reviewed regularly," he said.
"The average increase for passenger, car and small commercial vehicle fares on these routes is 8.2%, with the maximum on any individual route limited to 10.6%.
"The additional revenue generated by applying the updated RET formula for passengers, cars and small commercial vehicles will be reinvested in commercial vehicle fares, in order to reduce the impact of the removal of RET for commercial vehicles on services to the Western Isles, Coll and Tiree.
"We will also provide additional funding for commercial vehicles so that no fare will rise by more than 10% in 2013."
However, Labour's infrastructure spokesman, Richard Baker, said: "It has taken ministers over two years to publish this ferries plan, but now it has finally been revealed, island communities will be dismayed to learn the Scottish government is planning huge hikes in fares.
"Ministers are seeking to alleviate the effect of their regrettable and damaging decision to scrap RET for commercial vehicles on routes to Coll, Tiree and the Western Isles, but are doing so in the context of fare hikes across the routes which will be damaging to the economies of island communities."