Scottish rail strike: Fresh bid to avert Christmas action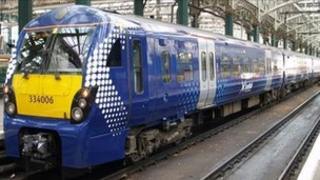 ScotRail has made a formal offer to the RMT union in a bid to avoid pre-Christmas strike action.
The move, which will be considered by the RMT's executive on Wednesday morning, follows new talks between the two sides in the dispute.
Station staff and ticket collectors are due to strike on Saturday and on Christmas Eve over the dismissal of ticket examiner Scott Lewis.
Details of the incident involving Mr Lewis are disputed.
The RMT has claimed that he was merely trying to ensure that a man on board a train purchased the correct ticket.
'Positive vein'
However, the rail operator said CCTV images showed that his standards of conduct fell "well below" what it would expect.
A ScotRail spokesman said: "Constructive dialogue has taken place with the RMT to avert strike action next weekend and to end the dispute.
"It is hoped there will be a successful outcome."
Transport Minister Keith Brown welcomed the news that ScotRail and the RMT are continuing talks in a bid to end the dispute.
He said: "I have been in discussions with both parties and am pleased to report that each side is keen to resolve this dispute and end the uncertainty for passengers at this crucial time of year for the travelling public.
"I now urge both ScotRail and the RMT to continue the talks in this positive vein and I am hopeful that an agreement can be reached soon which will be to the satisfaction of both sides and which, more importantly, will ensure the continuation of the rail timetable throughout the festive period and beyond for train passengers throughout Scotland."
Meanwhile in a separate dispute management from CrossCountry trains have been in talks with RMT officials, attempting to avert a strike planned for Friday which would affect their services on the East Coast Mainline.
CrossCountry described the talks as "constructive" and said proposals for resolving the outstanding issues had been forwarded to the RMT's executive committee with a recommendation to call off the proposed industrial action.
Speaking after the meeting, managing director, Andy Cooper, said: "We have reached an agreement with the RMT regional officer regarding the issues they raised, and now await confirmation that the terms are acceptable and the strike will be called off."