Historic skills kept alive at Edinburgh Castle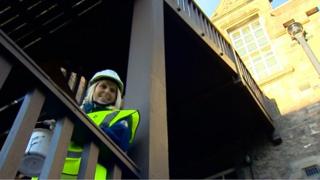 Problems getting a plumber or a joiner? Imagine you are trying to maintain a stately home or a medieval castle.
With a national shortage of stonemasons, plumbers and other tradesmen trained in traditional skills, Historic Scotland and others are warning there is a danger these skills could die out.
Tony Walker is an apprentice stonemason, working in the awe-inspiring surroundings of Edinburgh Castle.
"The first time I came here I was just looking over Edinburgh and said 'wow, I actually work here!'.
"The fact that we're working on such old buildings and we're doing the same type of work that they used to do back then, I think that's really good."
Historic buildings such as this have gone through centuries of wear and tear but finding someone qualified in maintaining and repairing them, using traditional techniques, is not just a case of looking up the phone book.
David Mitchell, director of conservation at Historic Scotland, warns that these skills could die out if action is not taken.
He says: "We have areas where we have lost those skills. Particularly in some of our vernacular traditions.
"Some of our thatching traditions have been lost unfortunately. But there are still some hanging on there very tenuously and it is really important that we preserve them or at least document them."
And there is an urgent need for these skills. Thousands of properties in Scotland date from before World War One and many desperately require repairs using traditional materials and techniques.
To help with the upkeep of their properties, Historic Scotland is taking on 14 apprentices this year in a bid to ensure they are not storing up problems for the future.
Tracey Clayton is an apprentice painter.
She worked in a decorating company before.
She says: "It was all just houses, schools and residential homes but you can't get a bigger house than this!
"This is the best job ever!"
Hannah Ross is an apprentice joiner. "It's a different class because normally we'd be working in people's houses so to see all the old-style buildings is just great," she said.
All the apprentices know they are not only learning a trade for their future they are breathing new life into skills from the past.