Scots exam results improve for second consecutive year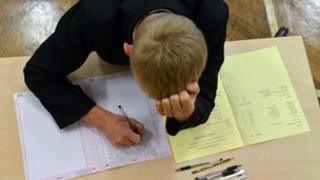 Exam results have improved on a range of measures for the second year in succession, according to new figures.
The number of fourth year pupils getting five good Standard Grades - grades 1 to 4 - has risen by 1% in each of the last two years, reaching 80%.
The number of fifth year pupils passing three Highers has followed a similar curve to reach the present level of 27%.
A total of 13% of fifth years pupils passed five Highers.
This category saw a rise of 1% in each of the past two years.
Details of exam results in individual schools and local authority areas can be searched on the Scottish Schools Online site.
'Not complacent'
It shows wide discrepancies between council areas. Young people in East Renfrewshire have a 52% chance of passing three Highers, but this drops to 28% in East Lothian.
A Scottish government spokesman said: "Scottish Schools Online provides valuable information for parents on their local schools.
"This year we saw Scotland's pupils achieve the best exam results since records began and with the introduction of Curriculum for Excellence we've halted years of decline in Scottish education performance.
"Our young people are leaving school better qualified. Higher pass rates rose from 72.9% in 2006 to 78.9% in 2012, demonstrating the strengths of our broad based education.
"More young people than ever before are in positive destinations, with 87.2% of pupils leaving in 2010-11 still in sustained positive destinations in March 2012.
"However, we are not complacent and where improvement is required Education Scotland provide specific inspection and support to raise standards."