Ferguslie in Paisley most deprived area in Scotland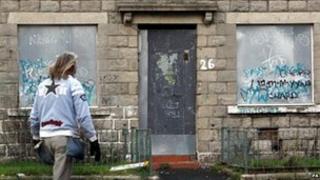 The most deprived area in Scotland in 2012 was Ferguslie in Paisley, according to Scottish government analysis.
Possil and Keppochhill, which are both in the Glasgow City Council area, were also within the top 5% of Scotland's most deprived areas.
The least deprived area was identified as Craiglockart in Edinburgh.
The deprivation rankings are based on factors such as health, crime, education, employment and income.
The Scottish Index of Multiple Deprivation analysis showed 742,200 people lived in the 15% most deprived areas of Scotland.
However, not all of those individuals are classed as deprived, as the data identifies areas and not people.
Following publication of the figures, Deputy First Minister Nicola Sturgeon said: "It is absolutely imperative that the most vulnerable members of society are protected and cared for during these tough economic times.
"The regeneration of our deprived and disadvantaged communities is a key priority for this government.
"Since 2008, we have invested £121.9m in urban regeneration companies to drive this change, helping to create more than 2,000 jobs and 900 training places.
"It is only by bringing the powers home and by being independent that we can build the nation that we all want, driving down the levels of deprivation in Scotland. You can only guarantee social justice if you have the powers to deliver it."