Scottish police: Concerns raised over £100m debts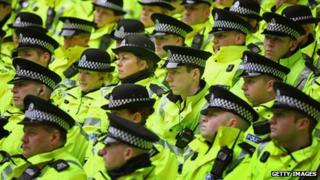 Scotland's new single police force will have debts totalling more than £100m, it has been warned.
The Scottish Conservatives have raised concerns about the scale of the debt after obtaining figures in a parliamentary written answer.
The country's eight police forces will be merged into a single Scottish service at the start of April 2013.
A Scottish government spokesman said Police Scotland would be given funds to service the debt.
The local authority loans fund figures cover the period 2010-11.
The Conservatives accused the government of failing to keep tabs on the debts, with annual repayments costing just under £6m.
John Lamont MSP, who requested the figures, said: "Beginning life lumbered with debts of more than £100m is far from an ideal situation.
"The Scottish government has had years to sort this out, but because of its negligence on this matter, Scotland's police force will have to shell out millions every year simply servicing this deficit.
"These figures are alarming and clearly the SNP failed to keep tabs on this. People will look at the £6m being spent servicing this debt and wonder just how much safer their streets would be if that were not the case."
A Scottish government spokesman said: "This 'old' debt was incurred by local authorities on behalf of police forces.
"The new Police Service of Scotland will not lose out, the Scottish government is providing the funds to service the debt."
The figures do not include Dumfries and Galloway or Fife constabularies, meaning the figure will be higher than stated in the 2010-11 statistics.