Who and what bust Halifax Bank of Scotland?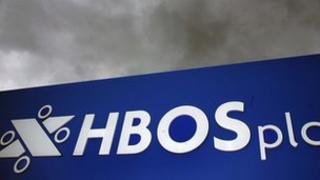 He's been portrayed as the man who broke the Bank of Scotland, and he's kept his silence. Until now.
Peter Cummings has been struggling with ill-health, while under a cloud of potential prosecution over his role in the bank's collapse in 2008.
That cloud has lifted, now that he's been handed down a £500,000 fine and been banned from future senior financial roles.
That penalty, from the Financial Services Authority (FSA), has been accepted under protest, saying the process has been "sinister" and "like living in an American soap opera" - of which more later.
Mr Cummings has broken his silence on his role in the Halifax Bank of Scotland catastrophe, in front of two members of the Parliamentary Commission on Banking Standards.
Due to his health, they took the commission to him, and it was agreed that this would be heard in private, on 27 November. Today, a transcript has been published.
Corporate stars
Mr Cummings rose through the ranks of Bank of Scotland, from a teenage recruit in his local Dumbarton branch in 1973. He became number two and then number one in the HBOS corporate lending division between 2001 and 2008.
It was in that role that he bankrolled not just corporate lending and the corporate stars - Sir Phillip Green, Sir David Murray, Sir Tom Hunter - but, on behalf of the bank, he took equity stakes in major companies.
So what was his explanation of why Halifax Bank of Scotland went on to sustain impairments of £40bn and £50bn, of which the commission claims "£26bn was from his division?
"The level of impairment is horrendous. I accept that," he told the commission.
Terse replies
But why was HBOS doing so much worse than other banks?
"I do not know, really, is the answer to that," replied Cummings. "I wasn't there at the time it was decided to impair, so I cannot really comment on that."
Asked again, he replied: "We did have a high concentration of real estate."
Was that 'the beginning and end' of the explanation?
The reply, tersely: "We did have a private equity group as well."
Rory Phillips, asking questions for the commission, raised the question of competence, which got a sharp reply.
"I have been through three-and-a-half years of things," said Mr Cummings. "I have not rubbished, bad-mouthed, or anything like that, my colleagues to the FSA, and I am certainly not going to do it to a parliamentary commission.
"These were people who turned up every day, worked hard, genuinely believed that they were doing the right thing, working for an institution that we believed in.
"It is not down to me to point fingers at anyone. I am absolutely heartbroken about what happened, and I live with it every day, but it would be inappropriate for me to point the finger at any colleague."
Questioned for more than two hours, Mr Cummings addressed the lack of banking expertise at the top level of HBOS. He was one of only two qualified bankers at the top tier, and denied it was "a cosy club" for the two of them approving each other's business.
He did not think his bosses, including chief executive Andy Hornby, had "a feel for banking the way I have". But nor did he have Andy Hornby's feel for the retail sector.
Spirit of co-operation
The former corporate chief said that he was pushed into boosting the targets for his division, as a result of the retail division under-performing. That was then being run by Benny Higgins, now head of Tesco Bank.
"There was a point at which the retail bank was not performing and not delivering on the expectations and I was asked to step in," said Mr Cummings.
This was early in 2007 and he said he "certainly made it clear to my superiors I was not all that happy about it". This was, however, in "the spirit of co-operation" in a collegiate management structure.
Mr Cummings explained that he felt HBOS had grown into a big bank and ought to behave like one, and that he was unsuccessful in making the case for a centralising of power, moving out of departmental silos.
He wanted to reorganise so that, for instance, international divisions would link with the expertise closer to home. There were three HBOS divisions handling oil and gas in different parts of the world, and real estate being bought by the same client in the UK and France was handled by different parts of HBOS.
Head in the sand
But when the bank started running out of money, and he couldn't offload assets from his real estate portfolio, he concedes that the bank's balance sheet began to burgeon, and he had lost control.
Asked if he had stuck his head in the sand about the problems, Mr Cummings replied: "I watched a train crash for nine months and could not do anything about it, so to say I put my head in the sand... I was a spectator of world events that I could not control".
Mr Cummings is notorious for having said, as the crisis gathered, that others were losing their nerve, but not him.
He says this was a media interview carried out in August 2007, but not published until the following February. Between those two dates, events in the industry had blown away that confidence, but he didn't offer to correct the public impression created.
As for the handling of his case by the FSA, Mr Cummings was scathing: "I found it quite inept and very disappointing".
Initially, he faced a £1m fine, but challenged that on the basis that there was no explanation how the fine had been constructed.
So last September, the commission's transcript explains that the FSA came back with a phone call, offering to half the fine in return for staying out of a judicial tribunal. The authority did not realise, said Mr Cummings, that he had neither the means nor the health to pursue the case any further.
"I think it bewildering and bizarre that, in the space of a meeting and two phone calls, they reduced the fine to £500,000. Frankly, it was like living in an American soap opera."
Mr Cummings is the only person in Britain to face a fine and ban as a result of the banking crisis. He told the parliamentary commission it was "oppressive" that an individual rather than his bank should face that kind of focus, and the way it was done was "a little bit sinister".
You can also comment or follow Douglas Fraser on Twitter: @BBCDouglsFraser