NHS appointments at the start of the week 'more likely to be missed'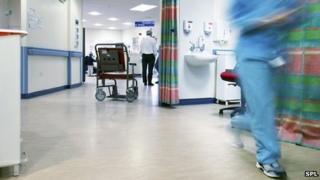 Researchers have identified the "Monday blues" as one of the reasons why patients miss medical appointments.
Their study indicated that there was a clear trend of patients being more likely to turn up at a GP's surgery or hospital towards the end of the week.
The team from Glasgow University has recommended moving more appointments to Thursdays and Fridays.
They claimed significant health benefits and financial savings of £60m a year could follow from such a change.
In an article to be published in the online journal PLoS One, psychologists Rob Jenkins and David Ellis said a small change to the pattern of appointments could save the NHS tens of millions each year.
The researchers studied two sets of data.
First they analysed the attendance records for 4,538,294 outpatient hospital appointments across Scotland between 1 January 2008 and 31 December 2010. Next they examined the attendance records for 10,895 appointments at a single GP clinic in Glasgow.
Psychological factors
Dr Jenkins said: "Our analysis of both sets of data shows that more appointments are missed at the start of the week than at the end of the week.
"Mondays are worst for missed appointments. But over the course of the week attendance steadily improves. Fridays have the fewest no-shows."
The authors of the study have speculated that psychological factors could explain the results.
Dr Jenkins added: "Recent psychological studies have shown that different days of the week evoke distinct emotional responses. Mondays have the most negative response; Fridays the most positive. And emotional tone brightens steadily over the intervening days.
"Missed appointments seem to follow the psychological peaks and troughs of the weekly cycle, with emotionally positive days boosting patient resilience and improving attendance.
"This interpretation chimes with many of the psychological reasons patients give for missing their appointments: fear of bad news; fear of unpleasant treatment; or even negative relationships with medical staff."