ScotRail workers to strike on Christmas Eve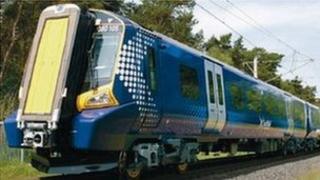 Workers on ScotRail will strike on 22 December and on Christmas Eve in a dispute over the sacking of an employee, the RMT union has said.
In November, staff voted overwhelmingly in favour of taking action.
The RMT claimed one of its members was sacked after trying to make sure a passenger had the correct ticket.
ScotRail said the dates chosen by the union were "cynical in the extreme" and a "clear attack on the travelling public across Scotland at Christmas".
The union said all of its members, with the exception of those working on sleeper services, would refuse to book on for any turns of duty between 23:59 on Friday 21 December and 23.58 on Saturday 22 December, and between 23:59 on Sunday 23 December 23:58 on Monday 24 December.
All of its sleeper service staff have been instructed to strike between 17:30 on 21 December and 17:29 on 22 December, and between 17:30 on 23 December and 17:29 on Christmas Eve.
The union warned the strike would cause "massive disruption" to services.
It said the action was in support of Scott Lewis, who the union claimed had been dismissed for trying to help a member of the public buy the correct ticket.
RMT general secretary Bob Crow said: "ScotRail are completely abdicating their own duty of care to their staff, who are out there working for the company in often difficult conditions.
"Their ignorance of the basic facts in this case is breathtaking. It is time for them to call off this campaign of victimisation and reinstate Scott Lewis back into his post.
"We are available for talks aimed at making that happen."
'Complete disregard'
But ScotRail insisted that RMT members had been misled by the union, which it said had declared in a leaflet with the ballot paper that management had refused to produce CCTV evidence to back up the reasons for dismissing Mr Lewis.
A spokesman for the rail operator said: "The union was shown CCTV on three separate occasions, and the images reveal that standards of conduct fell well below what we expect.
"If anyone believes the conduct towards a customer, who was reduced to tears, is acceptable - let alone worthy of a strike - then they are in the wrong job.
"The ticket examiner also had a complete disregard of correct ticket procedures."
The spokesman claimed the dates chosen for the strikes "reek of selfishness" and were "designed to give those on strike extra time off and full wages while having the maximum impact on the travelling public in the run-up to Christmas."