Giving assurances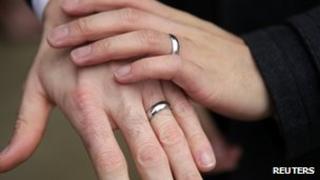 Given the sensitivity, it is understandable that the draft Bill to introduce same sex marriage in Scotland is hedged round by vigorously worded and repeatedly stated reassurance.
Assurance to churches - although the Church of Scotland, for example, says it remains to be convinced that the statements will prove sufficiently robust in practice.
Assurance even on related items not directly included in the scope of the Bill. For example, it is noted that the guidance to schools on sex education will be "updated" to take account of the provisions of the planned new legislation, once implemented.
That means, apparently and solely, that sexual health education in schools will reflect, factually, the revised status quo. Nothing more.
This element in the consultation is surrounded by an emphasis upon the power of parents to remove their children from such classes. But the document goes further - stressing, for example, the continuing role and status of denominational schools. In detail and at length. Reassurance plus.
The substance? Same sex marriage will be introduced. But religious organisations will not be compelled to comply. Different emphasis, though, from south of the Border where the Church of England is excluded from the outset.
Political backlash
In Scotland, it will work like this. Church organisations - including the Kirk, the Catholic Church and smaller bodies - would have to opt in before one of their clergy could conduct a same sex marriage.
Even then, individual ministers or priests could recuse themselves.
The (governmental) Minister, Alex Neil, introduces the consultation by hoping "that the debate will be conducted in a good spirit and civilised manner, with respect on all sides".
There is more to this, of course, than merely an appeal for civilised discourse. The SNP is concerned to avoid any prospect of a political backlash - particularly with an eye upon a particular test of popular opinion in 2014.
Several factors might mitigate that. One, the fact that the Scottish draft Bill has cross-party support. Two, the fact that a comparable measure is in play at Westminster.
Still, sensitivity abroad. Expect those reassurances to be stressed again and again in the coming months.