Timebanks - the modern bartering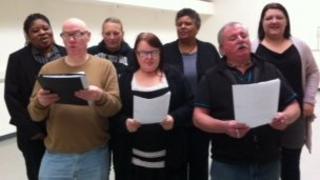 A modern day system of bartering is helping people in Edinburgh to get jobs done when money is tight.
"Timebanks" work by people offering their skills in return for time credits, which they can spend when they need help with something.
For example, you may mow somebody's lawn and in return you could get your ironing done.
Members of the latest Timebank in North Edinburgh say the system is helping to build community spirit in tough times.
Alice Wedderburn is one of the first members of the Timebank in the Pilton and Muirhouse area of Edinburgh, where unemployment is high.
She is offering to help people with computer skills or shopping and in return she would like some help with gardening or getting her hair cut.
She said: "All these things cost money but if we can share them through timebanking and time credits it's a good way to get things for each other."
Alice added: "Everybody's really tight for money and it's a good way to be able to get things done."
Sharing expertise
The North Edinburgh Timebank is getting tips from the West Edinburgh Timebank which has been running in the Wester Hailes area of the city since 2009.
It also has high levels of unemployment. Jane Davidson, who is one of the Timebank members, said: "People don't feel isolated because they know where to go for help. It's bringing people together, sharing ideas."
Julie Smith is the Timebank broker for the North Edinburgh project.
She said: "It develops the notion that we're all dependent on each other. It's about sharing expertise and helping people out.
"People don't have families around them in the way they used to and they don't necessarily know their neighbours and this is a way of trying to build that intangible thing called community spirit."
The North Edinburgh Timebank members have also formed a choir called the "Timebank Temptations". They are hoping that by singing at public events they can also earn time credits which they could use to get more facilities for the community.
Timebank and choir member Karma Lennon said the project was helping during difficult economic times.
"Everybody's skint. The community is a loss at the moment, and this is a way of getting people together.
"My confidence has gone through the roof since starting up with all of this."