Half of Scottish rape cases dropped before court, study says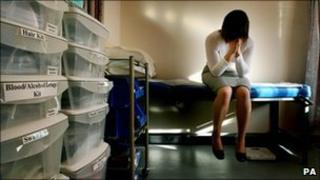 Half of rape cases in Scotland do not progress beyond the policing stage of the legal process, a study has found.
The report, by Glasgow Caledonian University (GCU) PhD student Georgia Scott-Brien, suggested a number of key factors which led to cases being dropped before they came to court.
One factor was limited availability and delays in forensic medical examination.
The research was conducted in 2009 with the support of an anonymous Scottish police force.
Ms Scott-Brien worked as a volunteer support and training worker for the charity Rape Crisis Scotland for seven years before beginning her PhD.
Her study suggested that the shortage or limited availability of forensic physicians impacted on the policing of rape, with some victims waiting for extended periods of time before being examined.
One police officer spoke of a rape victim having to wait 12 hours for a forensic medical examination.
These examinations were carried out in only 45% of rape cases, although the study acknowledged that this could be explained by a period of time having elapsed between the incident and the report.
'Victim demeanour'
The research said rape cases involving a forensic medical examination were more likely to progress to the next stage of the criminal justice system - 76% of such cases progressed, compared to 40% of those which did not involve an examination.
Just under 94% of the cases which featured physical injury of some kind were taken forward, while only 50% of those which do not feature injury progress.
The research found policing of rape in Scotland focused on specific types of evidence, such as the presence of physical injury and the demeanour of the rape victim.
This led to some cases which did not fit this pattern not progressing to the next stage of the criminal justice system, according to Ms Scott-Brien.
The findings will be discussed at a conference at GCU attended by police, policy makers and rape survivors organisations.
Ms Scott-Brien said: "There has been no comprehensive study conducted on the policing of rape in Scotland for over two decades.
"Therefore, this study provides a rare insight into this particular stage of the process from a Scottish perspective and will hopefully go on to inform policy and practice.
Shared experience
"The conference will ensure that my work is accessible to the entire stakeholder community and will also give rape survivors the chance to share their experiences with those who create policy."
Dr Lesley McMillan is among those who will and will speak at the event.
She has published work on the factors which police use when deciding which rape cases should be taken forward to the next stage of the criminal justice system.
"My research, conducted in Sussex, has shown that an uncomfortably large number of rape cases reported to the police are being lost at the earliest stage of the justice system," she said.
"These new findings suggest that the picture is broadly the same in Scotland.
"Through this conference - and by using the excellent links the team at GCU enjoy with police, academia, survivors organisations and policy makers - we will work to find ways the situation can be improved."