Blustery global trade winds
We all know that global economic forces are shaping our lives, but sometimes it pays to stop and take stock of just how much is going on.
This is not a bad weekend to do so. On Friday, in Ottawa, something very important happened. The Canadian government gave its approval to the takeover of a very large Canadian-based energy firm, Nexen.
It's being bought by the Chinese state-owned energy company, CNOOC. Approval by the Canadians followed unprecedented levels of lobbying by the Chinese authorities.
Why does it matter on this side of the Atlantic? Partly, it illustrates how China and other countries with surplus savings are investing in resources around the world.
And this deal happens to include the 43% Nexen stake in the Buzzard oil field, off Aberdeen.
It ought to be one of the most productive in the North Sea, but it's had a bad year for prolonged maintenance shut-downs. That's been a big contribution to the colossal 27% fall in UK oil and gas output between October 2011 and October this year, which was one of the main explanations for the dire output figures on Friday.
And because Buzzard represents a large share of North Sea production, one issue that's been raised is that its new Chinese owners could influence the way in which the price of benchmark Brent crude is set.
Canada has been deeply uneasy about seeing its energy assets moving into foreign ownership. The Nexen deal has been a big issue politically, with one poll showing 68% of people opposed to the transfer of such an important strategic asset.
While also green-lighting a huge energy sale to a Malaysian concern, the Ottawa government's making it clear that overseas takeovers of its energy assets will go thus far, and not much further.
Nation of shopkeepers
On the other side of the world, India has been wrestling with one of the trickiest of policy dilemmas - whether to allow in global retailers such as Walmart (Asda), Tesco and Carrefour.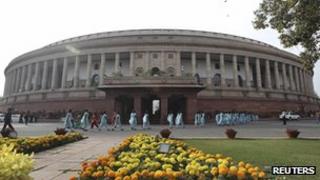 At the end of the week, the New Delhi parliament narrowly voted to liberalise.
This has been presented as a disaster for India's farmers, if their produce is sold into a market which the supermarkets could come to dominate. There's a more direct threat to the country's millions of small-scale and largely inefficient shopkeepers.
This has become the key test of India's openness to the world, at a time when the country's economic growth has been slowing and the nervousness of international investors is a brake on development.
I've written before about the problems Cairn Energy had in exiting its Indian investment.
In the past few days, Royal Bank of Scotland has found similar problems. An agreed sale of its Indian operations to HSBC ran out of time and is now being abandoned. The business is simply being wound up.
This may have something to do with HSBC changing its expansion strategy, but it looks a lot more like the two British banks simply couldn't get their deal through India's sclerotic bureaucracy.
It may be a small part of RBS's vast balance sheet, but it's another test of whether this emerging Asian giant is willing to pay the price of globalisation while its outward-looking businesses are reaping the rewards.
Latin spirit
If the retail issue can be resolved internally, with complex coalition politics still in play, it opens the door to a much wider free trade agreement between the European Union and India.
That's being very closed watched by the Scotch whisky industry, aware that this is the world's largest whisky market, but one protected by 150% tariffs on imported liquor.
The industry's dominant global player, Diageo, is already at an advantage for the opening up of the market, with its recent distress sale purchase of a controlling stake in Vijay Mallya's United Spirits, the country's biggest distiller.
Different free trade deals are due for confirmation in the European Parliament at Strasbourg next week, giving whisky exporters to tariff-free access to Colombia, Peru and central America.
Colombia is already seeing rapid growth in demand for Scotch, and removal of 15% import duty can only help.
Prestwick spirit
How countries adapt to globalising pressures was brought home to me this past week with a visit to Spirit AeroSystems in Prestwick.
The plant used to be part of BAE Systems, building entire Jetstream aircraft until 1996. Boeing spun out Spirit in 2005, with its headquarters in Kansas.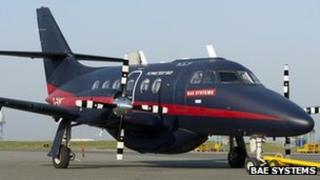 The next year, it bought the Scottish plant to give it a foothold in the European market, allowing it to bid also for Airbus work.
So while the demise of the commuter jet building was seen as a blow, it has been turned into an opportunity, by specialising and by broadening the plant's client base.
The Spirit plant now makes leading edges for Airbus wings, including a section of the new, vast Airbus 380, while also selling to Boeing.
While the Scottish Spirit plant competes with Chinese manufacturers, it's quality and leading edge technology (in both senses) makes it the preferred supplier.
Due to the growth in civil aircraft demand, it is struggling to keep up with demand. The workforce has grown above 1000, a shift has been added, and it's being asked to work through the usual Christmas shut-down.
Despite more automation, despite downward pressure on price and cost, and despite simpler parts of manufacturing being offshored to Spirit's factory in Malaysia (which was opened with Scottish expertise), there's little sign of nervousness about this being a threat to Scottish jobs.
As the company's UK vice-president, Scott McLarty, explained to me, the trick is to let work go to cheaper production locations, while specialising in the newest and the next generation of technology, which in civil aircraft means composite plastic.
And Prestwick is right there in the development of plastic wings, with a £20m investment programme aimed at returns over around 20 years.
The plant started out in the 1930s as Scottish Aviation. It's been through the building of entire metal planes and parts of them. And now it looks well positioned for the next generation.
For my look at Scotland's aviation sector, employing more than 8000 people and turning over around £1.6bn per year, listen to Business Scotland at 10.05 on Sunday 9 December, on BBC Radio Scotland. It is also available by free download.
You can also comment or follow Douglas Fraser on Twitter: @BBCDouglasFraser