Creative Scotland board promises changes after its leader resigns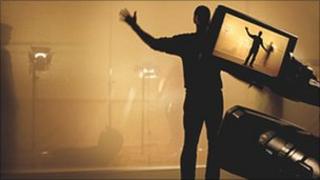 Creative Scotland's board has promised to make serious changes to the way the arts funding body operates, after admitting it has made mistakes.
The board pledged more specialists, more consultation with artists and more long-term funding arrangements.
It comes just days after its chief executive Andrew Dixon announced he was stepping down, following criticism of how the organisation was operating.
The board said it shared responsibility for the deterioration of relationships.
In June, Mr Dixon apologised to arts organisations for causing anxiety during a recent funding shake-up.
Some 49 groups - including the Scottish National Jazz Orchestra and the Edinburgh Mela - were told by letter that their regular funding would end next spring.
They were told they would then have to apply for money for one-off projects - a move which sparked an angry reaction from the arts community.
And in October, 100 leading artists launched an attack on the management and running of the organisation.
Crime author Ian Rankin and national poet Liz Lochhead were among those putting their names to an open letter condemning Creative Scotland's decision-making and saying it was in an "ongoing crisis".
The organisation promised a shake-up of its policies in the wake of the row.
In a statement announcing his departure, Mr Dixon said: "It has been a privilege to have been involved in the early years of Creative Scotland and to have worked with such talented and dedicated staff, but I now feel the time is right for a change of direction for both myself and the organisation."
He added: "I have been disappointed, given my track record, not to gain the respect and support of some of the more established voices in Scottish culture and I hope that my resignation will clear the way for a new phase of collaboration between artists and Creative Scotland."
In a statement released on Friday, the board said: "Central to many of the concerns communicated recently to Creative Scotland has been an inconsistency in our dealings with external partners, and there is clearly a need to create a culture and ethos where trust and mutual respect can thrive.
"This has meant that, despite a range of welcome and successful initiatives throughout Scotland in the first two years of operation, many important relationships have deteriorated.
"The Creative Scotland board acknowledges its own share of responsibility for this."
The board said it recognised the need for "substantial change".
It said it would offer long-term funding "as soon as is practicable", which would prevent organisations having to submit fresh applications every year.
It also promised clearer application processes and a change to its language and tone, to make it more accessible.
The statement said: "These changes are the product of a period of painful but essential re-examination.
"It is time that Creative Scotland stopped being the story."
Creative Scotland was established in 2010, through a merger of the Scottish Arts Council with Scottish Screen and has an annual budget of more that £75m from Scottish government and Lottery funding.