Scotland snow: 'Be prepared' warning for much of Scotland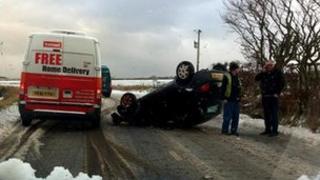 Few major problems have been reported on Scotland's roads despite warnings that snow and ice could disrupt transport.
The Met Office had issued an amber warning of snow across many parts of the country.
Driving conditions were hazardous on several roads in Grampian and Dumfries and Galloway.
Most roads in the central belt remained clear, although some trains were affected by signal problems.
Grampian Police said all untreated routes were affected by snow and ice on Thursday morning.
Two people were taken to hospital after a three-car crash on the A90 just south of Aberdeen.
The woman, in her 20s, and man, in his 40s, were injured at the sliproad to Portlethen at about 07:15.
Meanwhile another man, in his 20s, was also taken to hospital after a two-car crash on the A90 north of Aberdeen, at Balmedie, at about 06:30.
Icy conditions in Aberdeen city centre again caused delays for motorists, after similar problems on Wednesday.
Police in Dumfries and Galloway said several roads in the area were affected by hazardous winter conditions.
Heavy snow was reported on the A74 northbound at junction 15, and there was black ice on the A76 near Auldgirth. Ice was also reported on the A713 north of Carsphairn.
In Angus, Tarfside Primary School was closed for a second day.
Forecasters had earlier said 10cm-15cm of snowfall was likely in some areas and that the public should expect travel disruption.
They warned the disruption could be significant over the M8 corridor to the east of Glasgow, across Perthshire and over much of inland eastern Scotland.
BBC Radio Scotland reporter Huw Williams said it had started to snow at Harthill, on the M8, by 07:15, but traffic continued to move smoothly.
The Scottish government said its multi-agency response team (Mart) would be monitoring the situation.
'Coped well'
Transport Scotland operating manager Stein Connolly told BBC Radio's Good Morning Scotland programme that some parts of the country had been hit by "extreme temperatures" as low as -11C overnight into Thursday.
He added: "We had up to 170 gritters out on the network ensuring that things will be ok for the morning.
"We have actually got the Met Office in our multi-agency response team in the control centre, and it has been giving us up-to-date information as the morning goes on.
"The snow is coming in, it has hit places on the west coast, so that is as expected - it is maybe a little bit later but it is as forecast."
Speaking on Wednesday, Transport Minister Keith Brown said: "So far this week the network and the public have coped well with some testing conditions, however this severe weather warning suggests that tomorrow morning promises to be the biggest challenge of the winter to date."
He added: "An added risk is that fresh snow could fall on hard-packed ice and already treacherous surfaces, so keep up to date with live travel information and advice for preparing for and driving in testing conditions.
"The public should be prepared for the risk of significant disruption to travel, especially over the M8 corridor to the east of Glasgow, across Perthshire and over much of inland eastern Scotland."
The minister said salt stocks were high, more gritters and specialist equipment were ready and communications had been improved.
Network Rail said it would deploy rapid response teams to where the weather was most likely to hit and said it had installed "Nasa-grade insulation" to prevent points freezing.
The enhanced content on this page requires Javascript and Flash Player 9
Map Key
Land
Cloud
Lakes, Rivers & Sea
Fog
Light
Heavy
Frost
Light
Heavy
Pressure Fronts
Cold
Warm
Occluded
Rain
Light
Heavy
Extreme
Snow
Light
Heavy
Temperature tab only
Temperature (°C)
More details from BBC Weather