Lagerfeld does Linlithgow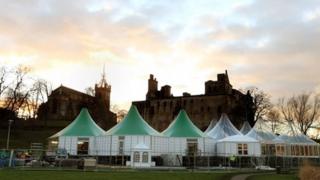 It's one of the privileges of being a journalist: a ring-side seat for the memorable, bizarre or one-off event.
For me at least, the Metier d'Art extravaganza staged by Chanel at Linlithgow Palace on Tuesday night was such an event: a work of theatre that will linger long after the fashion circus has moved on to the next big thing.
Locals braving the elements were disappointed to find the celebrities were more Turner Prize winners than Brad Pitt, the face and rambling poet to be found, to much parody, on Chanel's latest ad campaign. He didn't show. Nor did Angelina.
Instead, the star was the ruin. As a dedicated disdainer of fashion, I was won over by an enchanting use of the 15th century palace and its loch, the guests warmed by numerous wood-sputtering braziers as the snow fell through epic smoke and lighting effects.
Among those watching was Fiona Hyslop, the local MSP and culture secretary, whose remit includes the palace's owners, Historic Scotland.
She followed up the event with a deal to retain, at least temporarily, the wooden walkway and rows of seating round the courtyard. There's potential for more of this in an architectural treasure that's often overlooked.
Earthy, wintry
But whatever follows would have to work hard to top Karl Lagerfeld's collection, paying tribute to the craftsmanship behind Scottish tweed, woollens and cashmere.
Having just taken over the new Barrie mill in Hawick, he has clearly been keeping the workforce busy in preparation.
Adorning models, who stomped the courtyard like gawky adolescent gazelles topped by severe Marge Simpson hairpieces, there were tributes also to a romantic, earthy, wintry history of the West Lothian keep, where Mary de Guise gave birth to Mary Queen of Scots.
Lagerfeld toyed with cross-dressing gothic-Jacobite variations on the kilt, with sporran bags and hip-flasks, riffing on Celtic pewter and pearls, baggy sweaters and woollens fit to adorn an ice queen on her wedding day.
And among the fashion tips from those who know: watch out for a lot more Argyle-pattern tights.
Fashionistas and high-rollers
This Metier d'Art, after 10 years of unabashed decadence on a tour of the big cities of Paris, Shanghai, Moscow and Istanbul, is reckoned to have cost around £2m, much of it boosting the Lothian hospitality sector.
It's not clear if that would include the cost of bringing 400 fashionistas, high-rolling customers and fashion journalists from around the world to attend the show and dinner.
But even to my trend-defying, label-resistant outlook, the most stunning aspect of less than 20 minutes of runway confections was its potential to catapult the best of Scottish textile manufacturing and artisan craftsmanship into a big, opulent international league, far away from the land of austerity.
Scottish cashmere and tweed have been long and widely respected for their quality. But when this collection goes on sale from February, while running through the pages of Vogue and beyond, it will have reached the level of art and its own celebrity.
So, Brad... your loss.
You can also comment or follow Douglas Fraser on Twitter: @BBCDouglasFraser