Chanel show celebrates Scottish textiles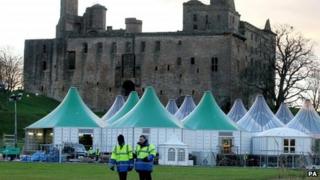 Shanghai, Monte Carlo, Moscow, Mumbai, Istanbul, Tokyo - and now Linlithgow. West Lothian hasn't seen anything like it since Susan Boyle burst onto the music stage.
The event is the Metier d'Art, an annual fashion extravaganza for the past decade, staged with outrageous opulence by Karl Lagerfeld and the Chanel fashion house he's led since the 1980s.
It's at least as outrageous for taking the ruin of 15th Century Linlithgow Palace and crafting a venue out of a temporary glass structure.
And it's audacious - you'll have noticed that this is December. And it's in dark, cold Scotland.
There's at least a subliminal link to Mary Queen of Scots, who was born in the palace.
And Coco Chanel made herself the queen of Scottish fabrics during the time she spent in the country.
Between 1924 and 1931 she was the companion of the Duke of Westminster, defining a new age of fashion.
She was strongly influenced by Highland colour, deploying both her aristocratic lover's wardrobe of tweed and Fair Isle knitwear.
This was while successfully depriving Sutherland's rivers of numerous salmon, occasionally in the company of the Duke's close friend, Winston Churchill.
The Duke's 1822 fishing lodge where they stayed, Rosehall near Lairg, has been on the "at risk" register since it fell into disuse 45 years ago.
There are now plans to revive it, including Chanel's signature beige and floral interiors.
Artisan needlework
In Linlithgow, the arrival of the Chanel/Lagerfeld roadshow is temporary, as you might expect of the fashion world, yet timeless in its nurturing of the industry's old crafts.
On Tuesday afternoon, it will be transported by limousine from Edinburgh, where the fashion house is hosting a high-end fashion elite for a couple of nights of fine food and whisky.
And on the runway will be a showcase of the artisan fabric skills that Lagerfeld's Chanel has amassed over the past decade, for fear that they would otherwise be lost for ever.
The cast list reads like a meander down a backstreet brimming with extravagant needlework in Victor Hugo's Paris: "Costume jeweller Desrues, feather dresser Lemarié, embroiderer Maison Lesage, the shoemaker Massaro, the milliner Michel, the goldsmith Goossens, the floral finery maker Guillet, the embroiderer Atelier Montex and the glovemaker Causse."
To all that, add Barrie Knitwear of Hawick. It's the first time Chanel has ventured off its home turf to gather up rare and treasured textile skills.
But when a pension black hole plunged the former outpost of Dawson International into administration, it emerged under new ownership as part of la famille Chanel.
That saved 176 Borders jobs, while preserving the fashion house's supply of cashmere, continuing a 25-year relationship looking to the Hawick mill for Chanel-branded knitwear.
Unusually, Barrie remains free to sell its wares to Chanel's rivals.
It seems to have been that Scottish connection that's brought the showman Lagerfeld to Linlithgow for this year's Metier d'Art.
We'll find out what's on his mind as the circus rolls up the historic Kirkgate, and as West Lothian forgets for at least one dazzling night that the next day in Westminster brings an Autumn Statement of austerity stretching still further into the distance.
You can also comment or follow Douglas Fraser on Twitter: @BBCDouglasFraser