Scotland weather: Ice warning as cold snap continues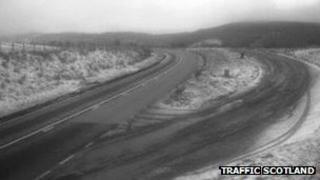 Weather forecasters have warned of icy conditions for much of Scotland, with further snow expected in some areas.
Rapidly falling temperatures and clear skies overnight led to icy stretches on untreated surfaces on Tuesday.
Police warned of problems on rural roads and there were a number of minor accidents in the Borders.
Forecasters also issued a further warning of snow in central, northern and eastern parts of Scotland, particularly early on Wednesday.
The Met Office yellow alert said there could be some heavy showers on hills and higher routes, as well as ice on untreated surfaces.
It warned of snow in Orkney, Shetland and the Grampians, ice in Strathclyde, and both snow and ice across the rest of Scotland.
The Met Office alert, which covers the period from 16:00 on Tuesday until 12:00 on Wednesday, also said there was the possibility of travel disruption.
On Tuesday morning, police in Dumfries and Galloway reported a serious crash between a livestock carrier and a car near Hoddom.
One lane of the Collin bypass was also shut after a single-vehicle accident but has since reopened and all roads were said to be experiencing "hazardous conditions".
Grampian Police warned of snow and slush in some areas, with hazardous conditions on the A944 Aberdeen to Westhill road.
The snow gates were closed on the B974 Banchory to Fettercairn road.