Creative Scotland boss Andrew Dixon to step down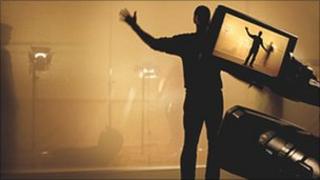 The head of Scotland's arts funding body is quitting the job, after criticism of how the organisation was operating.
Andrew Dixon will step down as chief executive of Creative Scotland at the end of January.
He said a "change of direction" was needed for both him and the body.
In October, 100 leading artists launched an attack on the management and running of the organisation.
Crime author Ian Rankin and national poet Liz Lochhead were among those putting their names to an open letter condemning Creative Scotland's decision-making and saying it was in an "ongoing crisis".
In June, Mr Dixon apologised to arts organisations for causing anxiety during a recent funding shake-up.
Some 49 groups - including the Scottish National Jazz Orchestra and the Edinburgh Mela - were told by letter that their regular funding would end next spring.
They would then have to apply for money for one-off projects - a move which sparked an angry reaction from the arts community.
The organisation promised a shake-up of its policies in the wake of the row.
In a statement announcing his departure, Mr Dixon said: "It has been a privilege to have been involved in the early years of Creative Scotland and to have worked with such talented and dedicated staff, but I now feel the time is right for a change of direction for both myself and the organisation."
He said Creative Scotland had delivered new resources for the arts and established strong partnerships with local authorities, broadcasters and others, adding that he had received "much support and generosity of spirit" from people working the arts across Scotland.
But Mr Dixon said: "I have been disappointed, given my track record, not to gain the respect and support of some of the more established voices in Scottish culture and I hope that my resignation will clear the way for a new phase of collaboration between artists and Creative Scotland."
The Creative Scotland board will now start the search for a new chief executive.
Chairman Sir Sandy Crombie, said: "On behalf of the board, I would like to thank Andrew for his stewardship of Creative Scotland since its inception.
"As a new organisation with an extensive remit, there have been inevitable challenges during this period and Andrew has consistently led the organisation with energy, passion and enthusiasm.
"He has also taken every opportunity to be a vociferous champion and advocate for Scottish arts and culture."
Creative Scotland was established through a merger of the Scottish Arts Council with Scottish Screen and has an annual budget of more that £75m from Scottish government and Lottery funding.