Greg McHugh: The man behind Gary, Tank Commander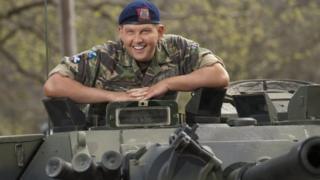 Greg McHugh is a rising comedy star who has had a busy year, writing and taking the lead in cult series Gary, Tank Commander as well as playing alongside Jack Whitehall in Channel Four's student comedy Fresh Meat.
Edinburgh-born comedy actor Greg McHugh knew that his creation had caught the public imagination when people started tweeting pictures of themselves dressed up for Halloween as Gary, Tank Commander.
With his army fatigues, orange fake tan and trademark quiff, Gary is easy to copy.
Add to that the camp gestures, wide-eyed, childlike innocence and surreal flights of fancy - such as why there is not a vegetable brand called "world peas" - and you have a character much-imitated by teenage fans.
You know you have started something beyond your control when people shout "cheesy pasta" at you in the street, McHugh tells Stark Talk on BBC Radio Scotland.
"I've had a guy whisper it in my ear and then walk away, which was quite creepy," he says.
It is a reference to a much-loved scene when Gary recounts his disgust at there being "ni cheesy pasta" on his return from serving in Iraq.
"To Gary, cheesy pasta not being available in the supermarket is really the same as some dreadful atrocity in a war," says McHugh.
"He's kind of simple but not stupid. He's not the brightest but he's loveable."
The comedy comes from McHugh's portrayal of Gary - with an infectious enthusiasm and an adorable daftness - which has won him many fans, even among squaddies.
Part of the comedy is the accent.
"It's based on a few people," says McHugh.
"It's a real accent that I'd heard on buses in Edinburgh. He's kind of based on a real voice."
There was also a suggestion it could have been based on a guy who sold pizzas at Stirling University, where McHugh studied business.
"There's no one specific person, there's little bits of other people," he says.
It is certainly not McHugh's true spoken voice, which is a far softer Edinburgh brogue.
That does not stop people constantly calling him Gary and getting him mixed up with his character.
McHugh says: "On the one hand it's a brilliant compliment. But I am really quite different from Gary and when people meet they are genuinely disappointed."
The third series of Gary, Tank Commander recently ended on BBC Scotland, as well as getting a network airing.
However, McHugh does not think he will make any more.
He says: "It is very easy to fall into that safety net of doing Gary as long as I can milk it but I don't really want to do that.
"Hopefully we would do a Christmas special at some point. I would consider that."
Serious business
The 32-year-old comedian has lived with the comic creation for longer than the three series would suggest.
Gary began life as character in McHugh's stand-up show at The Stand in Edinburgh.
It was later made into a 10-minute sketch for E4 before becoming a show called Gary's War for More4, which won the Scottish Bafta in 2008.
BBC Scotland took it as a mainstream sitcom and cut down the satirical content in favour of camp surrealism.
McHugh says far more effort goes into its silliness than people appreciate.
"Comedy is a very serious business," he says.
"The amount of detail in making a joke work is immense."
He says writing is a "dreadful stress" and he finds it infuriating when something he has written does not work as he thinks it should.
An appreciation of how much effort is involved in writing has made him "quite picky" about what he chooses to do.
But he has just finished appearing as Howard in the second series of Fresh Meat, created by Peep Show writers Sam Bain and Jesse Armstrong.
McHugh says: "With Fresh Meat the scripts are so good and so well-written and the character is so clear and fresh and I enjoy doing it so much that when I get scripts that aren't up to that standard I don't want to do them."
He adds: "I've turned down quite a few things."
"I might be mad but I don't want to do things I'm not proud of."
As Gary would say: "May the forces be with you."
Stark Talk with Greg McHugh is on BBC Radio Scotland at 14:05 on Tuesday 4 December.