Marine protection network could be worth £10bn says report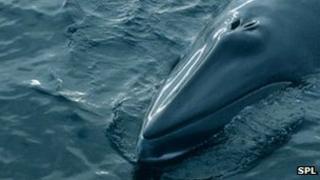 A network to help protect Scotland's seas could provide economic benefits worth £10bn, according to a new report.
The Scottish government is due to publish proposals for a network of Marine Protected Areas (MPAs) by the end of the year.
The report was commissioned by industry forum Scottish Environment Link.
It said MPAs would help mitigate against extreme weather impacts, boost fisheries and secure Scotland's tourism appeal.
Scottish Environment Link's marine taskforce is made up of eight organisations.
They are the Hebridean Whale & Dolphin Trust, Marine Conservation Society, National Trust for Scotland, RSPB Scotland, Scottish Ornithologists' Club, Scottish Wildlife Trust, WWF Scotland and Whale Dolphin Conservation.
The detailed study firstly identified the economic benefits provided by Scotland's seas, then assessed what would happen if the existing management regime continued.
It compared that to the impacts of different theoretical MPA network scenarios over the next 20 years.
It found that the greatest economic benefits would come from a network that protects a high proportion of habitats and species which are currently threatened or in decline.
Protection of spawning and nursery grounds for fish was also identified by the researchers as important.
Tourism revenue
The report's findings come just weeks before MSPs at Holyrood are due to see proposals by the Scottish government for a network of nature conservation MPAs to help protect and recover Scotland's seas.
Calum Duncan, of the Marine Conservation Society, said: "Ten billion pounds is a large figure, but potentially even then a major under-valuation. The figure does not take into account the huge value in simply having a resource available in the future, what is known as an 'option-use value' by economists, nor the economic value of potential overspill from MPAs.
"What is clear, however, is that for the benefits to flow, marine protected areas must be well-managed and must properly protect ecosystem function.
"A network of well-managed marine protected areas is a vital part of the way we expect our seas to be managed."
Kara Brydson, of RSPB Scotland, said: "Seabirds bring significant tourism revenue to remote and coastal communities which, in financial terms, makes it all the more concerning that breeding populations of some Scottish seabirds are estimated to have plummeted by over 70% in one human generation.
"A smart government will protect seabirds and the benefits they provide to Scotland's economy, and the simplest and best way to do this is to create MPAs for seabird feeding hotspots out at sea."
Sarah Dolman, from Whale Dolphin Conservation, said: "Whale and dolphin watching around Scotland's coastlines generates millions of pounds and valuable jobs.
"For example, whale watching in western Scotland is worth about £7.8 million a year, supporting over 60 boat operators."
Rural Affairs Secretary Richard Lochhead said: "I thank Scottish Environment Link for carrying out this study, which includes some interesting contributions to the debate on the value and role of Marine Protected Areas.
"What the Scottish government is fully committed to is putting in place the measures needed to ensure protection for our precious marine environment while providing continued support for the economic users of our seas. MPAs will form an important part of getting that balance right."