Scotland weather: Ice warning as cold snap continues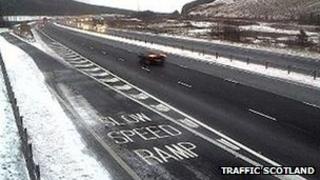 Weather forecasters have warned of icy conditions for much of Scotland.
The Met Office issued a yellow warning which is valid until 11:00 on Tuesday.
It said temperatures would fall rapidly during the hours of darkness where skies clear, with wet surfaces readily freezing. Icy stretches will form "quite widely" on untreated surfaces.
Forecasters also issued a further warning of snow in central, northern and eastern parts of Scotland, particularly early on Wednesday.
Snow and sleet fell in parts of Scotland on Monday - but there were no major problems with the transport network.
The Met Office said about 3cm (1.2in) of snow had fallen on some lower areas, with heavier falls on high ground.
A severe weather warning posted on the Met Office website said: "Temperatures will fall rapidly this evening, where skies clear, with wet surfaces then readily freezing.
"The picture will be complicated by further areas of wintry precipitation in some areas.
"The public should be aware of the likelihood of further difficult travel conditions, with icy stretches forming quite widely on untreated surfaces."
The main transport routes have remained largely clear, although Grampian Police have responded to 77 road accidents, including two fatal crashes, since snow started to fall in the north east on Friday.
The number of accidents was double the average reported at this time of year, the force said.
Ch Insp Ian Wallace said: "After the recent drop in temperatures, snow and ice have been affecting our roads and there has been a noticeable increase in the number of road traffic collisions reported to the police.
"Driving during the winter months requires a different approach to be employed, namely using dipped headlights, reducing your speed, increasing your stopping distance, using smooth steering and avoiding harsh acceleration and braking.
"Some simple changes to the way you drive can make a big difference and reduce the chances of you being involved in a collision."
However, other police forces reported no major problems on the roads.
Transport Scotland's multi-agency response team (Mart) was operational on Sunday night and Monday morning to monitor how the transport network was coping with the conditions.
A Scottish government spokesman said: "The Scottish government's resilience room and Transport Scotland's multi-agency response team both stand ready to co-ordinate activity across the network and address any wider severe weather impacts should conditions later this week require a national response.
"We are continuing to closely monitor the situation, particularly in relation to key areas of transport, utilities and flooding.
"In the run-up to the first widespread snowfall of winter, we have seen a wide range of agencies and organisations working together and reacting quickly to weather alerts to put in place their response plans. This activity has played its part in keeping disruption to a minimum in difficult conditions.
"The travelling public also deserve praise for the way they have reacted and behaved. However, no-one is being complacent and whilst the weather alerts remain in place, the focused response will continue."