New sex trade strategy proposed for single Scottish police force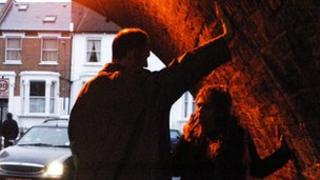 A single strategy on prostitution has been drawn up for dealing with the sex trade under a single Scottish police force.
At the moment different parts of Scotland regulate prostitution in different ways.
The Association of Chief Police Officers in Scotland has drawn up a new strategy ahead of the merger of Scotland's eight forces in April.
It includes minimising harm, disrupting organised crime and reducing demand.
Much of the debate around the sex trade has contrasted Edinburgh saunas - believed to be tolerated as part of a "pragmatic" approach by authorities - with an approach in Glasgow which is closer to zero tolerance.
However, in four month's time Scotland's eight police forces will become one, prompting the new strategy from an Acpos working group.
It has a number of aims, including to "minimise the levels and impact of prostitution through reducing or eliminating the harm to sex workers".
The proposals also say "high level objectives" have been set for the working group to meet.
There will still be some regional variations, but Scotpep - a charity based in Edinburgh which advocates on behalf of sex workers - said it was concerned that Glasgow's zero tolerance approach would be forced on the rest of the country.
Scotpep's George Lewis said: "That does concern us, at the moment the largest police force in Scotland has a zero tolerance approach to sex work, and if it's that view that's allowed to prevail we'd be very, very worried about it being extended to the rest of Scotland.
"Particularly when we feel that the police force here in Lothian and Borders has a pragmatic and progressive approach that has given us lots of benefits and advantages."
In Scotland, selling sex is legal between two consenting adults - as long as it does not involve selling sex from the street or in a brothel.
Five years ago, buying sex from street prostitutes, or kerb-crawling, became illegal so clients of street prostitutes now face arrest too.
In Edinburgh, the city council licenses saunas which are commonly thought to allow prostitution on their premises, this differentiates Edinburgh from the rest of the country.
A council spokesperson said: "Any allegation of criminal activity would be a matter for the police to investigate and report to the council."
But the law is also under scrutiny at the Scottish Parliament. A proposed bill is currently out to consultation and the MSP behind it, Rhoda Grant, wants the purchaser of sex to be criminalised.
Until now, the prostitutes have been criminalised more than their clients. The number of women convicted last year under prostitution-related legislation was 117.
A total of 83 men were convicted either for soliciting, kerb crawling or other related offences.
Dr Brooke Magnanti achieved fame writing a blog about her experiences as a London call girl, which was serialised on television. She now lives in Scotland and told BBC Scotland's Social Affairs Reporter Fiona Walker she opposes the proposed changes.