'Creative tensions' around the Leveson Report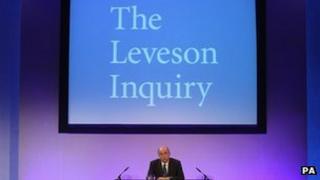 In a very different context, Alex Salmond praised the beneficial impact of creative tension. It would seem that there is a fair degree of that phenomenon around with regard to reaction to the Leveson Report.
For one thing, we had the remarkable sight in the Commons of the Prime Minister delivering a response on behalf of the UK Government - followed by the other half of the coalition, Nick Clegg, offering a dissenting perspective.
Mr Cameron has doubts about whether the planned new regulatory body for the press merits statutory underpinning. Mr Clegg, like Labour's Ed Miliband, harbours no such anxieties.
As noted yesterday, press regulation is devolved to Scotland. And Alex Salmond has now formally offered cross-party talks to find a common solution - with a back-up plan of an implementation group to be chaired by a judge.
Again, though, that creative tension is to the fore. To put it simply, there is evident mistrust between the parties at Holyrood.
Contradictory positions
All three main Opposition parties have now backed the concept of talks - but questioned whether Alex Salmond is the one to lead them, given his proximity to the Murdochs and News Corp in the past.
Mr Salmond notes that his contacts with Rupert Murdoch were far more limited than those of political leaders from UK parties - and that he is vindicated by the Leveson findings.
There is, of course, no prospect of Mr Salmond standing aside from an initiative which he has instigated. That is simply unthinkable. Which, as of tonight, leaves the concept of cross-party talks under question.
So how do we arrive at these two apparently contradictory positions from the reading of a single report? Because the two sides are inclined to focus upon different sections.
Mr Salmond's critics note the point that he was willing to intervene with the UK Government to back News Corp's takeover of BSkyB. Leveson says that, had the lobbying taken place, it would have rendered the subsequent decision by the UK Government unlawful.
That is because the UKG decision had to be purely upon the issue of media plurality - not the jobs and economy questions pursued by Mr Salmond. In the event, though, no such lobbying took place.
Mr Salmond's critics also note the point that the bid was mentioned in the same conversation as discussion of possible electoral support by The Sun newspaper for the SNP.
Talk 'pitfalls'
However, Mr Salmond points to further findings - and to the conclusion. That there is no evidence of a deal between the FM and James Murdoch trading newspaper support for backing the bid. That the FM was "motivated by an anxiety to help Scottish employment and to benefit Scotland generally".
That, in conclusion, Mr Salmond "cannot be criticised" according to what he actually did - as opposed to what he said he was prepared to do.
Expect a few days, then, of selective quotation - with critics drawing attention to implications and inferences while Mr Salmond points to the summation that he "cannot be criticised" and was defending Scottish jobs.
Then, perhaps, talks can begin. But there too there are pitfalls. Labour's Johann Lamont, for one, has said she is not convinced that there is any need for a distinctive Scots regulator. In response, Mr Salmond says that, if Westminster cannot agree, then Scotland should take the lead.
Creative tension, indeed.