Referral-to-treatment NHS waiting times 'target reached'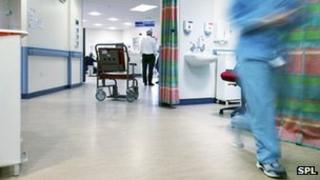 The Scottish government is claiming to have met a target to treat 90% of NHS patients within 18 weeks.
However, the figure does not include more than 9,000 people whose total waiting time was not recorded properly by September 2012.
It means 19,000 people were either not treated on time, or did not have their total wait recorded.
All health boards except Lothian and Forth Valley are meeting the 90% target over three months.
The 18-week referral-to-treatment target came into force on 31 December 2011, and from October 2012 patients requiring inpatient or day case treatment are covered by a 12 week Treatment Time Guarantee enshrined in law.
In September 2012, for Scotland as a whole, 90.8% of patients whose entire journey could be measured were seen and treated within 18 weeks from initial GP referral to start of treatment.
NHS Ayrshire and Arran narrowly missed the target during September with 89.6%, Lothian saw 87.1% and Forth Valley achieved 83.1%.
The figures also showed that more than 97% of patients across Scotland had an outpatient appointment within 12 weeks of referral, while more than 97% of inpatients and day cases received treatment within 12 weeks.
Health Secretary Alex Neil said: "Quick access to treatment, delivered as locally as possible is what patients want."
"I am proud to say that NHS Scotland is continuing to deliver on the target to ensure that patients are treated in 18 weeks or less.
"We are continuing to work closely with those health boards who are not meeting the target to address any issues and to ensure future compliance.
He added: "It is important to remember just how much progress has been made. In 2007 over 29,000 people were stuck on 'hidden waiting lists' not getting the treatment they needed and the maximum wait to get an appointment was six months.
"Now, rather than having individual waits for consultations and tests, this target focuses on the patient's whole journey from GP referral to treatment. This is the best way to ensure patients get the very best quality of care."
A report published last week by the chief executive of NHS Scotland claimed the health service has "delivered its best ever performance" in key areas over the past 12 months.