Shipyards on the slipway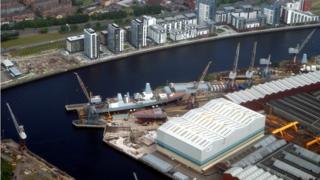 Closure looms for one of Britain's three remaining Royal Navy shipyards. And so does a renewal of hostilities over the politics of where they're located.
It's no surprise to find that there is too much capacity for the amount of work the Royal Navy has on offer.
One yard is likely to close; Portsmouth on the south coast, or either Govan or Scotstoun on the Clyde.
Operationally, the latter two tend to be treated as one centre with a workforce crossing the Clyde to go where the work is, and that may be one of the reasons why Portsmouth is seen as the more vulnerable yard.
What is a bit of a surprise is how soon a decision is going to be taken.
The Sunday Telegraph is reporting that Nigel Whitehead, boss of BAE Systems in Britain, expects a decision to be taken on "a reduction in footprint" by the end of this year.
That doesn't necessarily mean closure. It could be a cut in workforce, with about 4,000 in Scotland and 1,500 in Portsmouth.
After the carriers
The threat to the yards was clear before work on the Queen Elizabeth class aircraft carriers got under way.
In a memorandum of understanding signed between the yards' owner BAE Systems and the Ministry of Defence, it was recognised that the three yards would depend on export orders if they were to be sustainable after the carrier work is complete.
Half of the major work on the carriers has already been floated off for assembly in Rosyth, and workers from the Clyde are following it to be part of the workforce on the Forth.
They were never going to win exports by persuading others to build very large aircraft carriers. And they have been poor at winning exports for smaller craft, such as the Type 45 destroyers, now coming into service.
One of the problems with them is that they have a very high spec and lack of design flexibility, and not that many countries want or can afford what the Royal Navy demands.
The Type 26 Surface Combat Ship is intended to be more flexible in its design, and therefore more appealing to others who wish it configured in different ways.
That is intended to spread the design and development costs.
There have been very modest signs of progress on selling on the frigate design. We've been told that around half a dozen countries have been in discussions on using the Type 26 frigate.
But Brazil is the only country closing in on a commitment, and that's on the condition that it builds the ships in its own yards, under licence to BAE Systems.
And while that's good for British-based designers, it's no comfort to other UK shipyard workers who do the building.
Canada and Turkey are also among seven navies which have been named as looking at the Type 26 for future orders, but for now at least, they're not going for the UK/BAE proposition.
They have other options, after all, one a French-Italian design and another German-Dutch one.
India is one of those looking at the Type 26, having previously looked to Russia, and naval experts also point to growing military shipbuilding capacity in South Korea and China.
China also happens to be the source of much of this new military spending, as its neighbours gear up defence spending to keep Sino-ambitions in check and to protect assets, including oil fields, in disputed waters.
Clyde-build politics
The implications for Scotland and Scotland's future are clear, though the outcome is not.
The Clyde shipyards are protected from foreign competition by a European rule that lets countries keep military hardware in their own countries.
But what if the Clyde were in a foreign country to the Ministry of Defence on Whitehall? Scotland might be up for buying new ships, but if the UK has 13 such frigates in mind, an independent Scottish navy is unlikely to be able to afford more than two, perhaps three at a stretch.
We are assured by the SNP that Whitehall would still come to Scotland to use the expertise to be found on the Clyde.
The coalition UK government says the precise opposite, and that if it had to look outside the remainder of the UK to source its warships, then Scottish yards would have to compete with the rest of the European Union.
If a decision on this has to be made by the end of this year, as BAE Systems boss is now saying, Whitehall has a tricky decision: allow Portsmouth to close, risking the Royal Navy being left with no domestic shipbuilding capacity, or cut the workforce and perhaps a yard on the Clyde, and hand Scottish nationalists a substantial campaigning gift.
You can also comment or follow Douglas Fraser on Twitter: @BBCDouglasFraser