Scottish Conservatives launch Union Saltire logo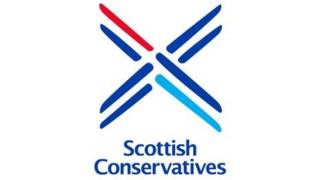 The Scottish Conservatives have launched a new party logo, which aims to reflect both the flag of Scotland and that of the United Kingdom.
Scottish Tory leader Ruth Davidson said: "Our new Union Saltire logo is bold, fresh and easy to recognise."
She said it was "distinctly Scottish but with colours which clearly reflect our pride in the United Kingdom".
The image replaces the previous tree logo, which was introduced in 2006.
Scottish Conservative deputy leader Jackson Carlaw, who led the redesign project, said: "Our new Union Saltire logo stands out on a ballot paper where it has a positive and suggestive impact - it says 'Vote Scottish Conservative'.
"From today the Union Saltire is the easily identifiable symbol of our party for the decade ahead."
Reacting to the change, SNP MSP Kenneth Gibson said: "There's something strangely appropriate in the Tories choosing a 'double-cross' to represent whatever it is they stand for, but I'm not sure it's the message they were aiming for.
"The remnants of the Tories in Scotland might understandably want to distance themselves from their colleagues in Westminster, but the truth is a leopard can't change its spots."