Ultra marathons GP Andrew Murray wins opening Antarctica event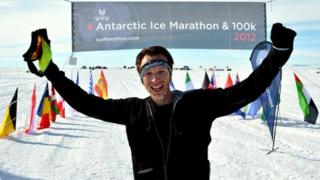 A GP aiming to run seven ultra marathons on seven continents in seven days has won the first event, in Antarctica.
Andrew Murray, who is from Aberdeen and now lives in Edinburgh, was recruited by the Scottish government to highlight the importance of physical activity.
His challenge will now take him to Patagonia, Atlanta, London, Egypt, Dubai and Australia.
Dr Murray aims to promote health and raise more than £10,000 for charity.
He is raising money for the Scottish Association for Mental Health.
Dr Murray hopes people will walk, run or cycle 5km each day he is away.
Last year he ran 2,659 miles - averaging more than 34 miles a day - from Scotland to the Sahara in 77 days.