Scottish road markings among worst in UK, survey says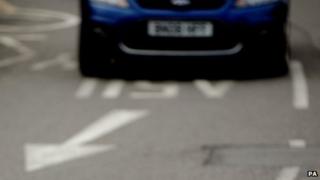 Road markings in Scotland are among the worst in the UK, according to a survey.
The Road Markings Safety Association (RMSA) said 40% of white lines on Scotland's motorways and dual carriageways needed immediate replacement.
The Scottish government said it was spending £1m from this year's budgets to improve road markings.
The RMSA surveyed more than 4,500 miles (7,000kms) of major roads across England, Scotland and Wales.
It found that 40% of markings on dual carriageways in Wales needed immediate replacement, while 38% of English motorways and 36% of Highways Agency-maintained English dual carriageways needed immediate or scheduled repairs.
Essential safety feature
The survey of more than 620 miles (1,000kms) of Scottish roads found more than six in every 10 single and dual carriageway road markings were barely visible, or fell into the warning zone.
On strategic dual carriageways, more than 90% of markings are failing on the M90 northbound from Inverkeithing to Perth, while the A92 in Fife and the A8 and A720 Edinburgh Bypass west show 80% failure rates.
The survey said that the worst stretch of English motorway for road markings was the M6 between Wigan and Standish in the north west, while the best stretch was the M5 between Tiverton and Tewkesbury in the south west.
The worst dual-carriageway stretch in England was the A630 from the M1 to Sheffield and the best was the A361 from Barnstaple to Tiverton.
The worst Highways Agency-controlled single carriageway was a stretch of the A49 between Standish and Chorley in Lancashire, while the best were the single lane stretches of the A361 between Barnstaple and Tiverton.
The survey showed that in Wales the worst stretch of dual carriageway was a section of the A5156 at Wrexham, while the worst single carriageway was the A466 Chepstow in England, to Monmouth in Wales.
RAC technical director David Bizley said road markings were "an essential safety feature".
"We understand that the Highways Agency and local councils are having to economise but basic safety features like road markings need to be protected otherwise it will lead to lives being lost."
Accidents decrease
A spokesman for the Highways Agency said: "We conduct our own annual surveys to assess the condition of road markings on the strategic road network, to ensure that journeys can be made safely and reliably.
"Where markings on sections of road are found to be sub-standard and require urgent improvement, we take prompt action to remedy them. In the majority of cases the maintenance of road markings is carried out as part of planned, programmed work.
"The survey was not comprehensive, and it is not clear how they chose which parts of our network to survey. Furthermore, they misquote the standards for quality of lane markings within their report."
Scottish Transport Minister Keith Brown told BBC Radio's Good Morning Scotland programme: "We have had fairly positive feedback in terms of road markings over previous years, but we do recognise there is more to do here.
"For that reason we allocated this year an extra £1m towards that, and we will keep a weather eye on that and seek to improve that as the year goes forward.
"The work we have undertaken is showing real results in terms of road safety.
"We have our own surveys which we undertake and we are confident the work we are doing just now is seeing a decrease in fatalities. We're also seeing a decrease in slight accidents as well as serious injuries."