How safe is your hospital? - analysis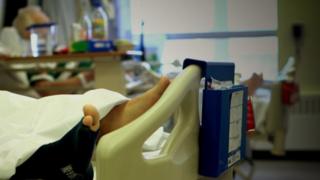 Hospitals should be safe; we trust doctors and nurses with our lives and the lives of our families, but just how safe is your hospital in reality?
Former mental health nurse Rab Wilson used to work at NHS Ayrshire and Arran.
As he was coming on shift one night in 2006, a restricted patient went missing from the ward.
Rab assumed he should be involved in writing a report about the incident, and repeatedly offered to be interviewed about it. Nobody contacted him, so instead he asked to see a copy of the incident report.
This was refused.
Four years and a ground-breaking freedom of information request later, Rab was given copies of his significant adverse event report and 53 others.
As a member of staff he could not read the reports, but as a member of the public he could.
"The whole point of these incidents was that there needs to be a learning opportunity for the organisation," he told BBC Scotland.
"For years I was a voice in the wilderness. I seemed to be some kind of flake, ranting about this.
"But suddenly it was as if there was this magic moment where everybody just sort of woke up and said 'wait a minute, this guy's been right all along'. And that was just a wonderful moment."
It took the intervention of the Freedom of Information Commissioner and ultimately the Scottish government to bring these NHS Ayrshire and Arran reports to life.
Since the decision in February, Ayrshire and Arran is the only health board to publish its investigations on its website.
Critical incident or significant adverse event reports exist.
Here at BBC Scotland, we decided to see if we could get a national picture, so we put in our own freedom of information request to ascertain the position across the rest of Scotland.
We asked three questions:
The numbers of adverse incidents each health board had identified over the past year,
2.How many they had investigated and written reports about.
Additionally, health boards were asked to send redacted copies of all the reports or their equivalents.
For the first time, we are able to look at the national picture to see just what is going on at your hospital.
Of the 19 boards serving the 5.25 million people of Scotland, only seven supplied the number of adverse incidents they had recorded over the past year.
Of those seven, three health boards were able to answer the questions in the request. Those three boards were the Scottish Ambulance Service, Shetland and the Western Isles.
International research is consistent in telling us that for every 10 people who enter hospital, something bad will happen to one of them.
This something might be an accidental overdose of medication, a machine that does not work as it is meant to, or it could be something catastrophic - a doctor not following up an x-ray and missing your cancer.
But even during the freedom of information request process, BBC Scotland had to make a formal appeal to NHS Grampian before it would release the information.
Looking at the table, there are a couple of discrepancies in numbers of adverse incidents health boards say they have investigated and the number of reports supplied to BBC Scotland.
However, boards only sent copies of reports that were complete. Several boards say they had not finished investigating events, and so the reports could not be sent.
A number of boards sent more reports than they say they investigated - but this is accounted for as a few boards also sent health and safety forms as part of their disclosure.
Four years ago, NHS Quality Improvement Scotland commissioned Dr Alastair Ross, a specialist in risk management at King's Health Partners' Simulation and Interactive Learning Centre, to look at the picture across Scotland.
He found disparities over what an adverse event actually is and how these events should be recorded.
Dr Ross said: "We found a great deal of disagreement as to how incidents and adverse events should be captured, what features of those events should be logged and used for learning purposes.
"There was some frustration amongst risk and clinical governance managers because they understood there were problems with the system; that perhaps it wasn't providing the learning that they'd hoped for.
"Therefore people were under-reporting and perhaps not trusting the data that were coming out of the system."
Dr Ross also took a look at the numbers provided to BBC Scotland and concluded there was very little correlation between the size of the population served by a health board, and the numbers of adverse incidents they have reported.
Not only is there a variety in the types of incidents reported, but also in quality, layout, and how much information is redacted.
Some of the health boards' reports are so heavily redacted to make them incomprehensible or you just can't make out enough information to get any sense of the events that happened.
Several health boards have reports that run to many pages, but others have reports that run for less than one.
A few health boards supplied us with low grade photocopies of their incidents, and some NHS Ayrshire and Arran's published reports are of such poor quality as to make them unreadable.
It is interesting to note what health boards consider to be a serious event that needs investigating.
State Hospitals provided a nine page report on floor covering and how a national newspaper got its information, whereas NHS Borders produced a report into the death of a baby during childbirth that runs to less than a page.
To read the reports in your area, click on the dropdown menu:
BBC Scotland Investigates: How Safe is Your Hospital is on BBC One Scotland at 22:35 on Monday 26 November.