Is food going off?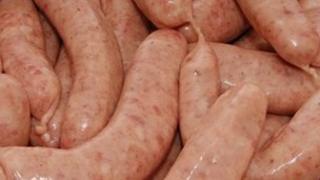 At the premium end of exports, British food is enjoying some tasty success.
Last week in China and Japan, the biggest ever delegation of food and drink businesses was pushing the story of standards and provenance.
Regrettably, I wasn't with them. But the reports back were of a Perthshire deli tripling its lobster supply to Japan's Michelin-starred restaurants.
The delegation talked up the prospects of growing salmon exports into the sushi market, with only 900 tonnes of Scottish salmon currently going to the world champions at eating fish.
Graham's Dairies was in ministerial-level talks on supplying cheese, butter and UHT milk to a Chinese market still smarting from a huge scandal about domestically-produced, poisoned milk.
And the Chinese like what they can learn from Britain. Why else would they have bought Weetabix?
Supermarket sweep
But there's something that smells less appetising about those supplying food markets closer to home.
Vion isn't saying much about its decision to pull out of Britain. It does, after all, want to get the best price it can by selling on assets at 38 sites.
Workers will also want to ensure a smooth transition to continued production under new ownership.
But it's clear from Vion's most recent financial results that high input prices and extremely challenging market conditions have been among the Dutch company's worries and disappointments.
For a company rooted in the eurozone, it's telling that it's chosen to get out of Britain.
There's something about Vion's British business which is less attractive than its new strategy of focussing operations on Germany and the Netherlands.
Could it be that supplying Britain's supermarkets is proving just too tough, as they respond to consumer behaviour and an appetite for trading down in price, so driving down supplier prices?
That has been a factor in the closure of Freshlinks sausage factory in Glasgow, Vion's large meat plant at Broxburn, a pizza factory in Wales, and the loss of 900 jobs announced today by Premier Foods at two bakeries in London and Birmingham.
Those closures follow the loss of a supermarket supply contract, which went instead to Allied Bakeries. So there are winners from such change, but at ever tighter margins.
Business analysts at Grant Thornton recently reported a 13% rise in food business failures in the first nine months of the year, when compared with the whole of last year.
And that's with more mergers and acquisitions, as the industry responds to market pressures and over-capacity.
But it concluded that what's lacking in the industry is the confidence and capital to invest in innovation, without which the supermarket buyers' pressures can be hard to withstand.
You can also comment or follow Douglas Fraser on Twitter: @BBCDouglsFraser