Robert Burns honoured for work as land surveyor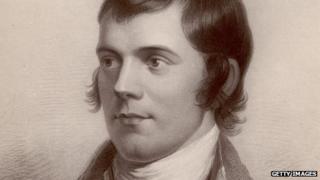 Poet Robert Burns has been honoured by the Royal Institution of Chartered Surveyors (RICS) - for his work as a land surveyor.
He is the first person to be granted posthumous membership of the RICS.
His honorary chartered surveyor award was presented to Planning Minister Derek MacKay, who accepted the accolade on behalf of the nation on Monday.
The only professional training ever received by Burns, a tenant farmer by birth, was as a land surveyor.
His award will be housed at the Robert Burns Birthplace Museum in Alloway, which is run by the National Trust for Scotland.
Determined that her son would not work on the land, Burns' mother sent her son to the Ayrshire village of Kirkoswald.
At the age of 17, he studied land surveying and geometry under the parochial teacher Hugh Rodger, a man regarded as a great land surveyor and geometrician.
Surviving chains
A number of links from Burns' surveying chains still survive and can be found in various museums.
The Writer's Museum in Edinburgh holds four links of a surveying chain used by Burns while working as an Excise Officer in Dumfries.
East Ayrshire Council Museum Service has two similar links from another of Burns' original surveying chains, and a handle from one of his chains is held in the Robert Burns Birthplace Museum.
Professor Nigel Leask, regius professor of English Language and Literature at the University of Glasgow, said Burns read widely in the contemporary literature on the subject while he was being trained.
"He would have been required to draw field plans and estate maps, and be familiar with surveying tools," he said.
"In the era of agricultural improvement, this was expected of an ambitious 'improving' farmer, his training was absolutely standard for the period."
Sarah Speirs, RICS's director for Scotland, said: "In awarding the Bard honorary membership, the Royal Institution of Chartered Surveyors wished to acknowledge Burns' professional training as a land surveyor."