How safe is your hospital? - complaints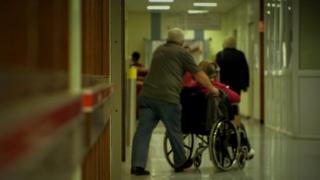 The number of complaints against the NHS amounts to 22 every day and more each year are being upheld by the Scottish Public Services Ombudsman.
Jim Martin says he is worried about the number of investigations where the health board concluded it was not at fault but the ombudsman found that to be wrong.
He says: "Last year we upheld something like 56% of the complaints, which is a very worrying number particularly given that the year before, the number was only 43%.
"There seems to be an increase in the number of complaints not being resolved satisfactorily in health boards.
"Where I'm worried is that if the trend continues, it will dilute the confidence of the population.
"I can only assume that if we get the learning better, then that will save lives. At the moment, the bureaucracy seems from the outside to be the most important thing. In my view the learning should be the most important thing."
Read the NHS critical incident reports for the past year which were acquired by BBC Scotland under freedom of information legislation.
So, does the NHS learn from mistakes or try to cover them up?
Elaine McMath Patrick's mother went into hospital with an infected toe on her right foot and came out having had half her left leg amputated because it became infected too.
She believes that was as a direct result of poor care.
She has not heard of a formal investigation into what went wrong being conducted, but she feels the NHS is not learning from its mistakes.
Elaine is now her mum's full time carer, going to look after her four or five times a day.
She says: "I think they've taken her life away. She never asked for anything. She didn't ask for help. She did for everybody else.
"She had to get the leg off, the leg came off or she could die.
"She said to me, 'oh we'll see how it goes and maybe you could just help me commit suicide'."
NHS Lanarkshire has refused to comment on the case.
Jennifer Kennedy lost her baby boy, Elijah, when he was six months old.
She believes it was mistakes made while she was in labour which eventually caused his death, and the way the family have been treated by NHS Ayrshire and Arran afterwards made it all much worse.
Even after two investigations, she feels she still does not know what happened.
Jennifer says: "We've had no answer. There were different investigations and different people coming to different conclusions, and yet nobody high up has ever taken responsibility or wanted to sort it out.
"We're still here all this time later, and we don't know any more today than we did when Elijah died."
She adds: "We don't have time to deal with the grief because we've all got all this going on. Sometimes it keeps you going but sometimes you just say it would be nice just to have closure.
"I don't think you ever recover. I think you just learn to cope."
Her partner Allan Stirling says: "My boy's lost his life, my weans have lost their brother, I nearly lost Jennifer and it's like they've shrugged their shoulders and said 'these things happen'.
"I had a breakdown the week after we got Elijah's headstone put up. Just the sight of it brought it really home to me for good.
"The whole family has suffered and it'll take years, years for us to recover, if we ever get back to normal."
In a statement to the BBC, NHS Ayrshire and Arran said: "What happened to baby Elijah and his family is unbearably tragic and they have our heartfelt condolences and apologies. The failings in care are detailed in the review document which we have shared with the family.
"Following Elijah's birth the Obstetrics department commissioned an internal review. However our Executive Medical Director felt that a more detailed review, including root cause analysis, was required. He also felt that the original review did not answer some of the valid concerns and questions Elijah's family had raised through the Complaints process and in conversations with other staff."
BBC Scotland Investigates: How Safe is Your Hospital is on BBC One Scotland at 22:35 on Monday 26 November.