Children in Need: Aberdeen hosts annual BBC Scotland event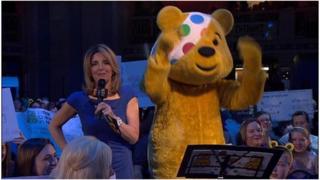 The provisional total for Scottish fundraising during the BBC's Children in Need fundraiser was £889,876.
BBC Scotland's main Children in Need event was held in Aberdeen's Beach Ballroom.
Money was raised through hundreds of events - from large-scale corporate efforts to fund-raising by individual classes within schools.
Kaye Adams, host of BBC Radio Scotland's Call Kaye, presented Friday evening's broadcast.
The regular annual host, television presenter Jackie Bird, has been ill.
Elsewhere in the UK, fund-raising events includes The One Show's Rickshaw Challenge, Radio 2's Children in Need Jukebox and Saturday night's Strictly Live Wembley Show.
Do you have pictures of Children in Need 2012 fundraising activities in Scotland? Send them to the BBC Scotland news website at newsonlinescotland@bbc.co.uk
Please ensure when filming or photographing an incident that you make your safety and the safety of others a priority.
If you submit an image, you do so in accordance with the BBC's Terms and Conditions.