Fergus Muirhead answers your consumer questions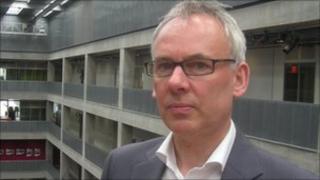 I'm Fergus Muirhead and I'm here to answer any questions you may have about any money or consumer issues.
Please drop me a line here at fergus@bbc.co.uk with your questions.
You can also read more on money and consumer issues on my own blog.
With one of the biggest shopping period of the year just round the corner, I thought it would be useful this week to look back at some of the issues that you might face when you buy your presents this year.
The important points to come out of all of these questions are:
* Your contract is with the retailer and you are perfectly entitled to take faulty goods back to the shop that you bought them in;
* Goods have to be fit for purpose and if they are not you are entitled to a replacement, refund of repair;
* Section 75 of the Consumer Credit Act means that you can make a claim against a credit card company if something goes wrong with goods you buy, or if the company you buy them from goes bust. For this to work the goods have to cost between £100 and £30,000 and you have to have paid by credit card, although it may work with a few debit cards as well.
I was always told that if you have faulty goods then your warranty etc was with the shop you bought the goods from. However, my friends and I have found that when you return a mobile phone to the shop you bought it at, you're told to return it to the manufacturer at your own expense. Is this correct? Brian Millar
The simple answer to this is that you can return faulty goods to either the retailer or the manufacturer. The retailer can be responsible because your contract under sale of goods legislation is with them, and the manufacturer because for the first 12 months or so after purchase you are likely to be covered by a manufacturer's warranty. In most cases it makes sense to take faulty goods back to the retailer and you shouldn't be fobbed off if you are told that it is nothing to do with them. As another option, under Section 75 of the Consumer Credit Act you may have a claim against the credit card company if you paid for your faulty goods using a credit card, and the goods cost more than £100 but less than £30,000.
In December 2009 I purchased an HP laptop from PC World. I did not take out the extended warranty. In March 2011 - four months after the one-year warranty expired - the mainboard gave up the ghost, and I had the laptop checked at a local dealer. Do I have the right to invoke the Sale of Goods Act, and ask for either a replacement or a refund? Andrew Sharp
When you buying something like a laptop, there are two ways that you are protected if something goes wrong. Firstly, as you say, you were provided with a warranty from the manufacturer that lasts one year from the date of purchase. On top of this, and not instead of, you are also protected by the Sale of Goods Act, which says that the goods you buy have to be 'fit for purpose, as described, and of satisfactory quality'. If something goes wrong in the first six months then there is an assumption, unless the retailer can prove otherwise, that the fault was there at the point of sale.
If the fault appears later, as in your case, then you need to be able to show the retailer that the fault is due to a defective computer rather than to wear and tear, and it may be that the report you got from your local dealer supports this. You should take the report to the shop and explain that the life of your computer motherboard should be more than 16 months and that you feel that the computer must have had some sort of fault from the beginning, and you would like it to be dealt with. It would be useful to do some research before you go to find out the expected life of the motherboard on your machine. You can make a claim under Sale of Goods legislation for up to six years from the point of sale in England and Wales, and five years in Scotland.
We purchased a ceramic hob from a local supplier. The hob was installed by an electrician recommended by the retailer. The hob developed faults within a few days - the red indicator light for the back right plate would go out while the plate was in use. After several phone calls and return visits to the shop, the technician visited us to assess the problem and order spare parts. He hoped to get the parts by the end of that week, or early the following week. He did fix it but now the back right indicator light has started to play up again from time to time, and although the hob is now more than 6 months old and has already had one repair under warranty I would like to know where I stand. Am I obliged to let them try a second repair? Would it be unreasonable of me to ask for a replacement hob? Margaret Eaves
The fact that you accept a repair when goods are faulty doesn't mean that you lose the right to a replacement in the event of another fault, and the fact that the second fault happened out of the 'warranty' period doesn't affect your rights under the Sale of Goods Act. I think, therefore, that you are perfectly entitled to ask for a replacement, and I know that after I spoke with the retailer that has now happened and you have a new hob. All's well that ends well!
I recently bought a new squash racket and that same day the strings snapped while playing. I went back the next day looking to exchange it. I was told that due to the nature of the sport they would not exchange it. Where do I stand with this? Steve Cochrane
The Sale of Goods Act is clear that any goods you buy must be 'fit for purpose'. It is not always clear with certain items, and this would include a lot of sports equipment - whether the damage done is actually caused by a fault in manufacture or by accidental damage while playing. This is why you will find it difficult to convince some retailers that the strings broke because of a fault with the racket rather than the way you used it! In order to get a refund you would have to convince the retailer that the strings broke because the racket was defective in the first place.