Missing mail postman gets community service.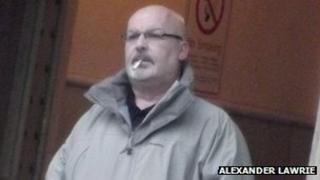 An Edinburgh postman who hid thousands of letters and parcels in his attic and car has been given community service.
Gary Kinghorn, 46, failed to deliver mail to hundreds of homes and businesses after claiming stress due to his brother being charged with murder.
Kinghorn was employed to carry out deliveries in Musselburgh, but concealed 2,500 pieces of mail, between January and July this year.
He admitted the offence and was given a 200-hour community payback order.
Kinghorn - who had been working for the Royal Mail for seven months - was caught after a customer complained two birthday cards he had been sent were not received.
Further investigations revealed other customers had complained about not getting their mail.
Kinghorn, from Bonnyrigg, Midlothian, admitted what he had done after the Royal Mail sent out test packages, which indicated he was responsible.
He was initially suspended in July and sacked in August 2012.
Kinghorn previously admitted deliberately and intentionally delaying 2,500 addressed postal packets between 1 January and 11 July 2012.
Sentencing him at Haddington Sheriff Court, Sheriff Peter Braid said Kinghorn had committed "a serious breach of trust".
'Unique circumstances'
Defence agent Colm Dempsey told the court there had been "a unique set of circumstances" that led to Kinghorn failing to deliver the thousands of letters.
Mr Dempsey said: "His brother had been charged with murder and it was clearly a difficult time for him.
"He was appointed the contact for the police, the procurator fiscal, the family and also his visits to his brother while he was remanded, and that all paid a heavy toll on him. As a result his work slipped.
"It also appears that after the backlog had mounted he made attempts to catch up by going out and mailing stuff that had accumulated.
"But despite his efforts he couldn't manage it and let matters get on top of him."
Kinghorn's brother, Derek, was jailed for life after murdering a drinking partner who had made a joke about his mother in Hawick.
A Royal Mail spokeswoman said: "Royal Mail has a zero tolerance approach to any dishonesty and that stance is shared by the overwhelming majority of postmen and women who are honest and hardworking and who do all they can to protect the mail and deliver it safely."