Mind the gap on the Northern Line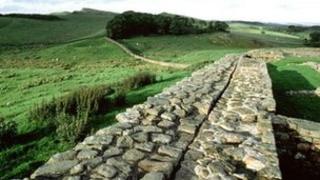 The north of England needs its own Alex Salmond, we've been told today.
You can fill in your own reaction, according to political persuasion and prejudice. But it's an arresting way of highlighting a set of problems arising from Scotland's constitutional debate, and how it could affect the cousins on the warmer side of Hadrian's Wall.
The Tyneside outpost of the Institute of Public Policy Research, IPPR North, has published a report that says the north of England risks being squeezed out by the relative economic success of Scotland and London - unless, that is, it gets some strong leadership.
I've written a bit about this recently. When Geordies have complained about Scotland doing better out of public spending, the bit that gets left out is how much more resource is poured into London. And somehow, it is rarely translated into English regional politics.
Katie Schmuecker and Guy Lodge at IPPR North are putting me right on that. Their report cites poll findings that show English people are well aware of unequal treatment for England's regions.
Capital for the capital
According to a 2011 opinion survey for the think tank, only 17% think the UK government looks after the different bits of England equally. Asked which bit of England is looked after better or best, 79% thought it was London. Nearly two-thirds of Londoners thought so.
And the paper highlights an astonishing figure on capital spending plans set out in the Treasury's last autumn statement. Spend per head in London was scheduled to be £2731, while in the north-east of England, it was £5. That's right: a fiver.
So the think tankers want to see the north of England's leaders get involved in the debate about the future constitutional arrangements of the United Kingdom, rather than letting Scotland negotiate with Whitehall down the barrel of an independence referendum, with Wales and Northern Ireland watching closely and using the Scottish lead to push for their own enhanced powers.
The IPPR paper also points to the lack of a strong economic development agency, particularly for the north-east, without which Scotland is at a significant advantage in attracting inward investors.
Celtic Tiger
But what of Scotland becoming independent? They look in some detail about how that could affect England's north.
One conclusion is that Scottish nationalists' hopes of becoming a Celtic Tiger with low business tax face a number of significant obstacles.
Among them: a cut in corporation tax to the Dublin level of 12.5%, which would be intended to stimulate more economic activity, would leave a gap of £3.8bn in public finances. That would have to be filled with 8% economic growth. And that's asking a lot.
A more modest cut from 24 to 20% would leave a £2bn fiscal gap, requiring 3.9% more gross national product to make up the difference. But the UK Government is already cutting corporation tax, down to 23% next April and 22% the year after that. And no, it's not saying how it will plug the resulting gap.
That's while a number of elements are stacking up to make for a more difficult environment to implement "aggressive" tax cuts. Just one of them could be a condition expected to come from the Treasury in any negotiations on co-operation over use of sterling on both sides of the border.
Old and New England
And would lower taxes attract businesses and people across borders, as Scots might hope, and the English might fear, at least until they start cutting in reaction? The evidence is confused. Some shows they do so in the USA, but not so in Canada. People migrate to lower tax cantons in Switzerland. But focussing on Vermont and New Hampshire, with dramatically different approaches to tax, there's little sign of Vermont losing business or people to its New England neighbour (motto, 'live free or die').
All that ought to be reassuring to those in the north of England, who have most to fear from a competitive tax regime in an independent Scotland. And it should give pause for thought within Stormont's cross-party consensus on getting corporation tax powers from Whitehall in order to compete with the Irish Republic's. The cuts could merely leave a larger deficit. (A decision on that Northern Irish proposal is expected from Downing Street in the next few weeks.)
The conclusion is that more devolution for Scotland could cause more problems for the north of England economy than a vote for independence. It's argued Scots would be pushing to grab the best of both worlds; fiscal autonomy with transfers of spending from Whitehall. And it's suggested that England would not be willing to see that happen - which is a significant problem to be addressed by Scotland's pro-union Better Together campaign, when it makes the case for devolution after a 'no' vote.
More concerning for northern England is the use of smaller, targeted tax measures by an independent or more autonomous Scotland. Capital allowances to help investment in certain sectors look more affordable than a cut in the headline corporation tax rate. And the campaign for control of Air Passenger Duty is already causing concern at the business it could draw north from Newcastle Airport.
Today also brings, from a London think tank, a reminder of the other big issue affecting northern England's economy: the loss of momentum while the south-east grows.
The Centre for Economic and Business Research has looked at the way the UK economy could develop in the next 20 years, and concluded there's a significant regional shift already under way.
It means a slowing of the pace of growth to the west of London, giving way to more business and population growth in... the east of London. That's a very metropolitan view of balanced growth.
You can also comment or follow Douglas Fraser on Twitter: @BBCDouglsFraser