How helicopters help to keep the lights on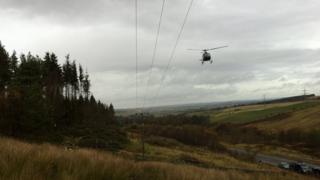 Electricity suppliers have tried to make the network more "robust" by spotting potential problems with power lines before the winter weather causes a blackout. But how are helicopters helping to keep the lights on?
On Boxing Day 1998 a huge storm swept across Northern Ireland and central Scotland.
It caused millions of pounds worth of damage and at its height some two million people were without power.
Thousands were cut off for a week, criticism of the companies responsible for the electricity network was fierce and they were stung into action.
The network is still far from storm-proof but performance does appear to have improved.
Last winter two storms, on 8 December 2011 and 3 January 2012, ripped across the country causing serious damage but the scale and duration of power cuts was greatly reduced.
"Over the years, we've cut a lot of trees and we've made our overhead lines much more robust," says Guy Jefferson, network operations director at Scottish Power, which delivers electricity to southern and central Scotland.
He says there was a fifth of the number of faults this year as there was in 1998 and those customers that did go off supply were only without power for half as long as previously.
That is partly because of a drive to identify and fix potential problems before they cause chaos.
Above the White Cart Water in Paisley buzzes 275kV of electricity, strung on thick wires between giant pylons.
This is the Neilston-Paisley-Govan-Haggs Road circuit which supplies 70,000 households.
A fault on this line, which is almost 50 years old, would be a big problem.
But engineers aboard a Twin Squirrel helicopter have managed to spot a potential trouble spot.
From the air they are using thermal imaging and 3D cameras to map the network.
Images of the connectors which join the lines to the pylons show glowing white heat spots, indicating that the temperature is too high.
Friction from high winds rubbing them together may be to blame but ice and sleet can also cause problems.
High above the ground, with one of the two lines still live, a skilled team of engineers works to repair the fault before it can cause a blackout.
This kind of work is taking place all year round by Scottish Power and Scottish Hydro Electric, which supplies the north of the country.
Both companies say they are investing millions of pounds in improvements.
"The helicopter is a vital tool", says Mr Jefferson.
He says: "It's fantastic for us. It's obviously very efficient.
"We can cover a lot of ground in any single day.
"It's a great advancement for us and it makes us much more efficient in what we're trying to do."
From Paisley, we travel south with the helicopter to watch work of a different kind.
Alongside the M74 at Happendon in South Lanarkshire, unnoticed by the thundering traffic, runs an 11kV wood pole line: the Douglas West Primary Circuit.
It is flanked by a dense plantation of tall conifers. But dozens of these trees lie on the ground.
They came down like dominoes in the storms of last winter, taking the power line with them.
Sites like these with the potential for further problems are identified from the air.
Then, after negotiations with the landowner, a remarkable troupe of men move in.
They are tough and they are tooled up, adorned with carabiners, ropes and cables.
With chainsaws swinging low from their belts, they shimmy up the trunks, like monkeys in high-visibility vests.
"Today, we're taking out trees which are within falling distance of the overhead network," says the team leader, Brian Bell.
"In the past we've had problems with trees on this circuit."
The work - cutting down the very trees the man are actually clinging on to, section by section - is expensive, difficult and dangerous.
"Well if you put working at heights with a chainsaw next to working next to an overhead power line, it's pretty dangerous," says Mr Bell, with a grin.
"My hat comes off to these guys, who do a wonderful job."
So with winter in the air, the struggle against Mother Nature - and the battle to keep the lights on - is again under way.