Children in Need: Kaye Adams to fill in for Jackie Bird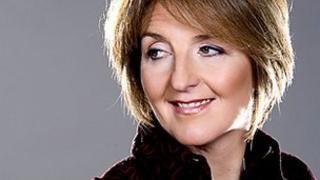 Kaye Adams will present BBC Scotland's Children in Need coverage as regular host Jackie Bird recovers from illness.
The host of BBC Radio Scotland's Call Kaye is to front Friday's event at Beach Ballroom in Aberdeen.
Children in Need 2012 will be broadcast on BBC One and Two from 19:30 GMT, with a highlights show the following day.
Kaye said it was "a great pleasure" to take part in the fundraising appeal, which this year includes a UK nationwide children's choir.
"It's a great cause and I'm looking forward to helping raise as much money as possible on the night," she added.
"Jackie Bird is of course synonymous with BBC Children in Need in Scotland, and we all wish her a speedy recovery and hope she can enjoy this year's show from home."