Litter blight 'spoiling' Scotland, charity warns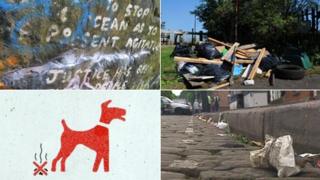 Scotland's countryside, health and economy are being spoiled by litter, dog fouling, fly-tipping, graffiti and abandoned cars, it has been warned.
The message comes as Keep Scotland Beautiful tries to recruit one million Scots into a clean-up campaign.
The environmental charity wants to clear Scotland of litter in the run-up to the Commonwealth Games and the Ryder Cup in 2014.
Clean Up Scotland starts in 2013 and will run until the end of 2014.
Keep Scotland Beautiful chief executive Derek Robertson said litter was not just a visual blight, but was something which affected society, health and the economy.
'Very encouraged'
He told BBC Radio Scotland's Good Morning Scotland programme: "Earlier this year we ran a national campaign called Our Spring Clean and we estimate nearly 250,000 got involved in that campaign.
"We cleared up over 1,100 tonnes from Scotland's streets and communities, which believe it or not is enough to cover Hampden Park three feet deep in black sacks, so we are very encouraged that the general public will take to this campaign."
Mr Robertson said it was estimated almost half of Scots drop litter on an occasional or regular basis.
He called on individuals, groups and businesses to get involved and make a difference with the aim of creating zero tolerance toward the dumping of litter in Scotland.