Chalara ash dieback summit to be held at Holyrood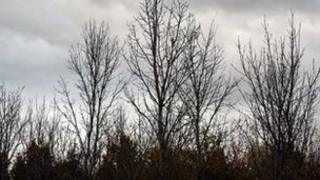 A summit is to be held at Holyrood to discuss the best way of stemming the spread of Chalara ash dieback.
The disease, which is threatening to devastate the UK's ash tree population, has now been confirmed at 14 sites across Scotland.
Two of these - at Eyemouth and Kinghorn - involve mature trees in their natural environment.
Next week's summit will bring together forestry, environmental and farming organisations.
Laboratory results from samples taken as part of this week's survey of 2,730 ash sites in Scotland were said to have provideed vital information which will be discussed at the summit.
The disease is only infectious during the summer months, and there is said to be very little risk of it spreading at this time of year.
Environment Minister Paul Wheelhouse, who will be hosting the event at the Scottish Parliament, said the onset of autumn meant there was a "good window of opportunity" to gather the best scientific advice in order to chart the way forward.
He added: "We now have two cases involving mature trees in the natural environment. While this is disappointing, we should consider this in the context of the much greater extent of the disease in the wider environment in the south of England.
"The latest scientific advice is that realistically it will be impossible to eradicate this disease now that it has been discovered in the wider environment in the island of Great Britain and south east England in particular.
"Attempts to do so would involve wholesale destruction of ash trees and ash woodlands, with no guarantees of success, and this would hamper efforts to identify resistant strains of ash as well as causing considerable damage to the wider ecosystem."
Mr Wheelhouse said mature trees can survive infection for a considerable number of years, and experience in Europe indicates that those with genetic resistance to the disease will survive.
"We will be working very hard to identify those trees that do possess a genetic resistance to the fungus and these will be invaluable as stock from which we can develop a supply of resistant trees for restocking our woodlands", he said.
Organisations which have been invited to the summit include Confor, Woodland Trust Scotland, National Farmers Union Scotland, RSPB Scotland, WWF Scotland, Ramblers Association and Scottish Land and Estates.