Rotavirus vaccine planned for Scotland's babies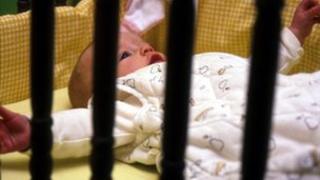 Babies in Scotland will be vaccinated against a vomiting and diarrhoea bug from next September.
Rotavirus is highly contagious and can affect about 140,000 infants in the UK every year.
In a programme expected to cost about £2.5m per year, infants in Scotland will be offered a vaccine against the bug.
It is thought the vaccine could result in 70% fewer rotavirus-related hospital stays.
The Rotarix vaccine is already used in several other countries, including the US, where it is claimed rotavirus-related hospital admissions have fallen by as much as 86%.
It will be given to infants as part of the existing Childhood Immunisation Programme and follows the recommendation of the Joint Committee on Vaccination and Immunisation.
Mouth drops
Public Health Minister Michael Matheson said: "Rotavirus is the most common cause of diarrhoea in young children and I welcome the use of any vaccine that can protect them.
"In some of the most serious cases, the infection can result in a hospital stay, which can be distressing for the children and their families.
"I would encourage parents of young children to take up this vaccine when the programme begins in September 2013."
In 2009, the World Health Organisation recommended rotavirus vaccine be included in all national immunisation programs.
The Scottish government said it was unable to start its own programme until next September because of the length of time it took for suppliers to manufacture enough vaccine to meet a country's needs.
Children will receive the vaccine, via mouth drops, in two separate doses alongside the existing routine vaccinations when they are two months old - then again at three months.
It is being stressed the new vaccine has been extensively tested when given simultaneously with other routine vaccines.