Speakers' scheme launches to inspire school pupils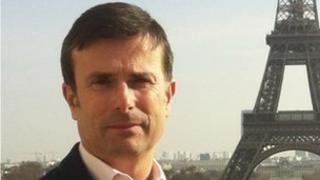 First Minister Alex Salmond will be among the first speakers in a scheme offering state schools talks from leading figures.
BBC business editor Robert Peston set up the project to give more young people access to inspirational figures.
The aim is to raise aspirations and broaden horizons, particularly in disadvantaged areas.
Prominent figures from the worlds of politics, business, science, media and the arts have agreed to take part.
Among them are the chief executive of Scottish Power Keith Anderson, the director of the National Portrait Gallery Sandy Nairne and the principal of Edinburgh University Prof Sir Timothy O'Shea.
Also taking part in the launch in Scotland are Scottish Football Association chief executive Stewart Regan, STV chief executive Rob Woodward, Prof Muffy Calder, the Chief Scientific Officer, and Edinburgh International Book Festival director Nick Barley.
Other senior politicians are involved, such as Labour shadow foreign secretary Douglas Alexander, Scottish Labour's deputy leader Anas Sarwar and Education Secretary Michael Russell.
The Scottish Secretary Michael Moore went back to his old school to help launch the initiative.
He spoke to pupils at Jedburgh Grammar School in the Borders.
Mr Moore said: "If you had said to me back in 1982 that I would be an MP and a government minister I would have laughed at you.
"However, the teachers of that time at Jedburgh Grammar School were encouraging me and my classmates to think about the world and laying seeds in my mind about an interest in politics.
"From the experience I had here in Jedburgh a lot has flowed, so I owe a lot to the school and to the community for what I've been able to do in life."
All the participants will visit a state secondary school or further education college to talk to young people about their jobs, careers, and the education routes they took.
Mr Peston founded the charity Speakers for Schools project after noticing that, while he often got invitations to speak in schools, they always seemed to be independent ones.
He said he wanted all young people to have access to inspirational figures who would talk about their career routes, and for it to become the norm for leaders in their fields to give talks in state schools and colleges.
Mr Peston is introducing the project to Scotland after its successful launch in England last year.
He said: "Our future prosperity depends in part on raising aspirations for young people, which can be helped by securing access for them to brilliant and inspirational minds.
"I am thrilled that so many great speakers are participating in Speakers for Schools Scottish launch".
Mr Salmond will speak to pupils at Bucksburn Academy in Aberdeen to launch the Speakers for Schools initiative in Scotland.